Non-destructive testing is a technique for analysing and evaluating the properties of a particular sample product in the industry without causing any damage to the product. It helps in assessing the flaws, characteristics and integrity of the substance in order to define the quality of a specific product. Non-destructive examination(NDE), non-destructive inspection (NDI) and non-destructive evaluation(NDE) are some of the other names for NDT. It has a significant role in determining the different stages of manufacturing products and the life of the finished products. In this article, we will cover all the necessary information about NDT, such as the importance of NDT, NDT methods, instruments used and Non- destructive companies in India.
What Are The Industries Where Non-Destructive Testing Is Used?
NDT could be used in almost every industry type as visual inspections occur around every workplace. For better understanding, here are some industries listed below that use NDT:
Aerospace Mining
Mineral oil & gas
Chemical
Construction
Automotive
Biomedical devices
Primary metals
Marine
Importance Of Non-destructive Testing

These are the primary reasons why non-destructive testing is adopted by so many industries globally :
● Efficient - NDT techniques are considerably quick and easy when it comes to evaluating any element which assures safety and delivers high-quality performance.

● Safe - Most of the NDT techniques are innocuous to people. The tests are held to ensure the safety of the product as well as the safety of the person who has to work on any machinery.

● Accurate - NDT techniques are proven to be accurate and reliable at the same time.

● Economical - NDT methods are cost-effective as they don't cause any harm or destruction to the examined product, which leads to saving time, money and resources.

● Prevent accidents - NDT techniques empower peace of mind to the operators by giving them satisfaction about the functioning of the equipment in the right direction that eventually prevents accidents in the future and determines measures that can be adapted for life extension.

The 7 Most Widespread NDT Methods
There are various techniques used under NDT methods, with each having its own types of tools, data, & training. Few techniques enable detailed assessment of an element, and some of them simply allow for an exterior examination. Given below are the seven most often used
Non-destructive methods
:
● Leak Testing (LT)

● Eddy Current NDT(ET)

● Visual NDT (VT)

● Ultrasonic NDT (UT)

● Radiography NDT (RT)

● Acoustic Emission NDT (AE)

● Electromagnetic Testing (ET)

Let's have a detailed study on these seven NDT methods.

1) Leak Testing(LT) - In this type of testing, one has to study the leaks in a material or structure to specify the imperfections in it. Under Leak testing, there are four methods categorised as - mass spectrometer testing, pressure change testing, halogen diode testing and bubble leak testing.

2) Eddy Current NDT(ET) - To determine the areas of the damages through this electromagnetic testing, focuses on utilising the ratios of the strength of eddy currents, i.e. electrical currents in a magnetic field that surrounds the element.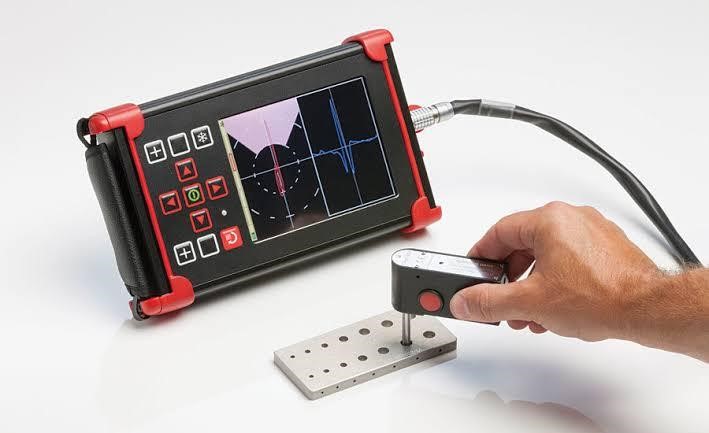 3) Visual Testing(VT) - This one is the most conventional way to investigate without distorting an object in any way. In this process, visual data is collected on the stature of the sample material.
4) Ultrasonic Testing(UT) - In the process of Ultrasonic Non-destructive testing, it transmits high-frequency sound waves into the substance to recognise the defects and changes in its properties.
5) Radiographic Testing(RT) - In this process, radiation is passed through the object where gamma rays are used for sturdy objects, and X-rays are used for slim materials. The results can be filtered by using computed radiography or tomography, digital or film radiography.

6) Acoustic Emission Testing(AE) - Here, acoustic emissions are used to point out the apparent deformities and shortcomings in a substance.
7) Electromagnetic Testing - In this testing method, an electric current/magnetic field is passed through a conductive layer to identify defects. Electromagnetic testing is of three types; the first one is eddy current testing that has been included in the points mentioned above, the second one is the alternating current field measurement, and the third is remote field testing.
Now that we have read about the importance of Non-destructive testing methods and also about different techniques of NDT, let's dive into the instruments that are used in NDT methods.
Non-destructive testing instruments :
NDT includes many types of equipment such as noise detectors, thickness gauges & eddy current instruments etc. Some of the devices are handheld, and others can be mounted in a cabinet or on a rack. We will discuss some of the instruments that are used in non-destructive testing.
1) Eddy Current Instruments - This instrument is used to provoke eddy currents in the materials which are conducive. These instruments help in detecting drawbacks, defining the density, inspecting welds etc. Eddy's current instrument has an analogue/digital meter and a magnetic probe which is either straight or angled.
2) Acoustic Emission Instruments - These instruments are used for monitoring and observing changes in the electrical and mechanical systems.

3) Non-destructive testing Conductivity and Resistivity Meters - These are the devices that are used for evaluating the electrical conductivity and resistivity of a substance to specify the traits of its materials.
4) Ultrasonic Instruments - These instruments aim to use beams of high-frequency wave signals to regulate and measure the components of the material.
5) X-Ray Instruments - X-ray instruments penetrate gamma radiation or X-rays that capture the internal picture of the material for the screening process.

6) Corrosion and Electrochemical Instruments - To determine corrosion and electrochemical circumstances in machines, batteries, field appliances, colloids etc.
Top 5 NDT companies in India :
There are many non-destructive testing companies in India that provide excellent services, out of which we have handpicked the top 5 non-destructive testing companies in India.
Difference Between Non-Destructive Testing And Destructive Testing
The most significant difference between the two lies in their names. In non-destructive testing, the part or the substance doesn't get destroyed in the process and remains capable of providing a good service. But in destructive testing, the element gets damaged and can no longer be fit for use. Some methods of destructive testing are macro sectioning, tensile testing & 3 point blend testing.

Conclusion:
We, at
One Stop NDT
always strive to create awareness to the NDT Market (Equipment Manufacturers, service providers, distributors, plant operators, NDT professionals etc) about the New Development and products & Services availability in the global market and to provide them with direct access to interact and explore on the possibilities of helping and working together.
Our team of experts is backed by professionals who have experience & presence of more than 20 years in the NDT market and have access to a large database /clientele who will be targeted/educated about your strengths/capabilities and give them a chance to freely communicate/interact with you and develop an interdependent relationship helping everyone to grow.