The NDT (nondestructive testing) methods are:
Visual Inspection – VT
Liquid Penetrant Testing – LT
Magnetic Particle Testing – MT
Radiographic Testing – RT
Ultrasonic Testing – UT
Eddy Current Testing – ET (not used in field inspection)
Acoustic Emission Testing – AET (not used in field inspection)
Phased Array Ultrasonics – PA
Time Of Flight Diffraction – TOFD
Visual Inspection – VT:
Visual inspection after welding is very useful in evaluating quality, even if other testing methods are to be employed. As welding progresses, surface flaws such as cracks, porosity, and unfilled craters can be detected only by Visual Inspections, leading to repairs or rejection of the work.
Welds must be cleaned from slag to make inspection for surface flaws possible. A 10x magnifying glass is helpful in detecting fine cracks and other faults. As indicated before, a borescope and dental mirrors, are useful for inspection inside vessels, pipe, or confined areas.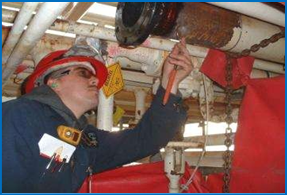 Visual inspection (VT) is the most popular and the most widely used of the non-destructive inspection techniques. Completed welds should be checked according to the plans and the specifications.
The most common welds that need to be inspected in the field are fillet welds. Fillet welds are designed based on their leg sizes. If the leg is under the specified dimension, then the strength required is less than what the joint was designed for. The throat of the weld should be checked also.

Inspector visual requirements:
Performed with or without corrective lenses, to prove near vision acuity on Jaeger J2 at not less than 12 inches and a color perception test. The objective of visual inspection at this stage is not only to detect non permissible faults, but all procedure details.
If the plans show a fillet weld at 5/16 inches then each leg of the weld needs to measure to that dimension. A fillet weld gauge is the standard tool to check weld sizes.
The fillet weld gauge has two corners for checking leg sizes and two corners for checking throats of the weld. An explanation of how to use the fillet weld gauge is shown below: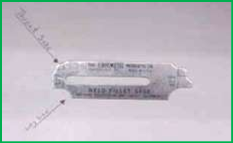 Welds should be first visually inspected. The initial procedures taken by the Welding Inspector are:
a. Details to Check Before the Welding:
The materials to be welded and the related standards (ASME, ASTM, );
Welder Qualification Certificate, drawings and related documents;
Welder equipment and electrodes, including storage and drying systems;
Welding edge preparations and correct bevels;
Root openings;
Clearance of backing strip or ring;
Overall alignment and fit up;
Welding procedures during the welding
b. Details to Check During the Welding:
Preheat and interpassing temperature;
Cleaning, chipping, grinding or gouging;
Structural defects and discontinuities;
Post heating temperature, when specified.
c. Details to Check After the Welding:
Dimensional accuracy of the weldment, using fillet weld gages or rulers, as shown above;
Conformity to drawing and procedure requirements;
Acceptability of welds with regard to appearance and fabrication quality;
The presence of any unfilled craters, undercuts, cracks, overlaps;
Post heating temperature, when specified.
d. Weld Joint Preparation:
The first step in making a sound weld is to make sure the joint is correctly cleaned using a stiff wire brush or a grinder for cleaning the base metals. The portion of the base metal to which the ground clamp will be attached must also be cleaned. Poor contact with the ground clamp will create resistance in the welding circuit and could result in poor weld quality.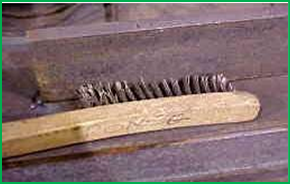 Preheat prior to welding should be taken according to procedures. All unpainted surfaces have to be free from all loose or thick scale, slag, rust, moisture, grease, or other foreign material.
Please feel free to reach us https://aqcinspection.com/training/ to learn more about any of the methods in detail, meanwhile we shall explain briefly about each and every process in upcoming posts.
Also are experienced more than a decade in producing the most appropriate procedures for welding ,all types of welding Brazing and Soldering process, (WPS / PQR ) and welder qualification , soldering technician qualification & brazing operator qualification,
We have strong client base for WPS approval in India, Welder qualification in Chennai, Welder qualification and WPS approval in Trichy , Welder certificate in Pondichery, Salem, Kadaloor, Bangalore,Hosur, Kerala, Erode, and also expertise NDT and Welding Trainings.