The cost of equipment failure within oil, gas and chemical industries (including fuel depots, processing plants and LPG vessels) on workers, shareholders, equipment, and the environment is often devastating.
This is a very real, very common risk, as the hazardous nature of substances handled daily puts enormous, corrosive pressure on the equipment's structural integrity. A catalogue of historical equipment failures has led to the strict preventative safety testing and regulations we have today.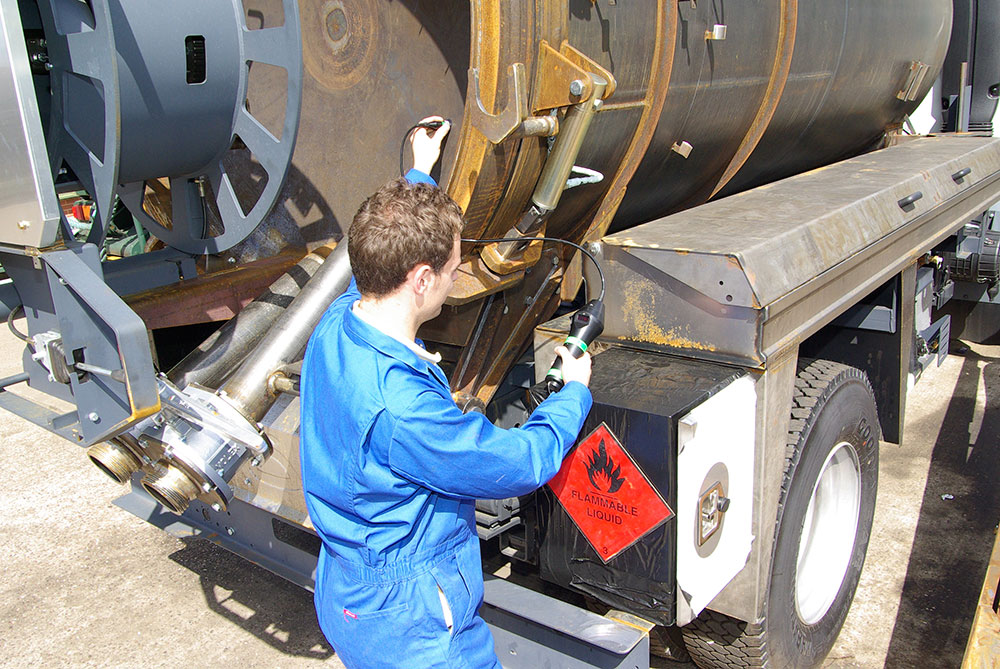 Whilst increased awareness is good, these industries are experiencing huge growth in demand, creating a 'every second (and penny!) counts' culture that is struggling to strike a balance that meets safety standards and production targets.
This time and financial strain have seen equipment frequently pushed beyond its intended capacity and lifespan. However, it is in fact the opposite approach that protects profits and secures a more profitable future. A regular safety inspection regime will help put such companies on a stronger stance in an increasingly sustainable world.
Ultrasonic Testing – a Solution to the Safety vs. Productivity Battle
The simplicity, speed and accuracy of Ultrasonic Testing (UT) can significantly relieve pressures to meet these seemingly conflicting demands, saving companies time, money and their reputation, as well as providing peace of mind. Here the advantages are divided into two key pressures:
Maintaining productivity: Time is precious, both to the production chain and the equipment inspector. The good news is ultrasonic testing can be applied to a system in operation, meaning production is unaffected. For the inspector, however, many systems run on a colossal scale with numerous key parts, from welds and pipes to pressure and storage vessels. Time is money, so with vast areas to cover, speed and efficiency are essential. Ultrasonic testing achieves both. It is easy to use even without an NDT qualification; is fully portable and extremely flexible in measuring an array of materials and accessing tight, awkward spaces, and only requires access to one side of a structure. Cygnus gauges accommodate multiple probe sizes, shapes and angles to accomplish this, and advanced data-logging capability provides instant results which are automatically saved, eliminating manual data recording.
Guaranteeing accuracy: Accuracy is key when performing inspection in such demanding environments because time is, and efficiency has to be, super tight. Ultrasonic testing is expected to see huge growth in the coming years due to high sensitivity, efficiency and impressive precision in determining wastage or damage. When applied to thickness measurement, it detects signs of corrosion in its early stages, preventing significant damage and loss.
To really maximize speed and accuracy, Cygnus Instruments pioneered the Multiple-Echo technique, which has long since been the industry standard for through-coating material thickness measurement and is required by classification societies for ultrasonic thickness measurements. It gives error-checked, reliable remaining metal thickness and guarantees crucial savings in time and money as it eliminates the need to remove and reapply coatings. What's more, it avoids the risk of exposing the material under test to further corrosion.
Cygnus 1 Intrinsically Safe – Meeting all your Requirements Under Pressure
Durability in volatile environments is invaluable. Cygnus 1 Intrinsically Safe ultrasonic thickness gauge boasts an extremely rugged, shock-proof and splash-proof (IP65 rated) construction. It is the only one of its kind in the world certified to Class 1, Div 1 ("Zone 0") for ATEX, IECEx and CSA-US – specifically designed for measuring metal thickness to determine wastage or corrosion in Zone 0, Zone 1 hazardous and potentially explosive environments. This heavy-duty unit is supplied ready to use and offers up to 12 hours continuous testing before a recharge is necessary, with no plant shutdown or hot work permit required.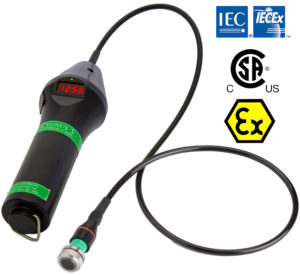 The virtually indestructible exterior houses a remarkable set of components, viewed via a bright LED display with polarised filter, in either metric or imperial measurement to suit the user's preference. These features include an echo strength indicator to aid measurement, stable calibration linear accuracy, no zero adjustment and sound velocity settings. The gauge can also be used with a range of varied frequency probes or a right-angle probe – more practical for reaching areas with restricted access.