What is Ultrasonic Testing ?
Ultrasonic testing is the process of detecting internal defects by use of high frequency sound waves which are non audible to human ears. The method can be used to detect flaws inside any solid material.
Why is a procedure required for UT ?
Any industrial operation requires a work instruction or working procedure. When it comes to special techniques like NDT – Non Destructive Testing, it is essential to have an approved procedure. They have references from any of the international standards. Few of the global inspection standards for Ultrasonic Testing are given below:
ASME Boiler & Pressure Vessel Code – Section V
BS EN ISO 17640 (British & ISO Standard )
SAE AMS 2630, SAE AMS 2632 – (Aero Space Standards)
How to make a Ultrasonic testing Procedure
A Procedure should contain the below important contents
Scope (What is range, material, type of material or weld joint the procedure covers, technique)
References (the International or local Standards that the procedure refers)
General Requirements

personal qualification,
requirement equipment capacity,
Search unit size and frequency (Probe)
Couplant
Calibration standards /reference standards

Inspection Procedure
Evaluation of Indications
Acceptance Criteria
Documentation & Report format
In general a procedure should state all the essential variables given in the standards,
Given here the essential variable requirement as per ASME section V Article 4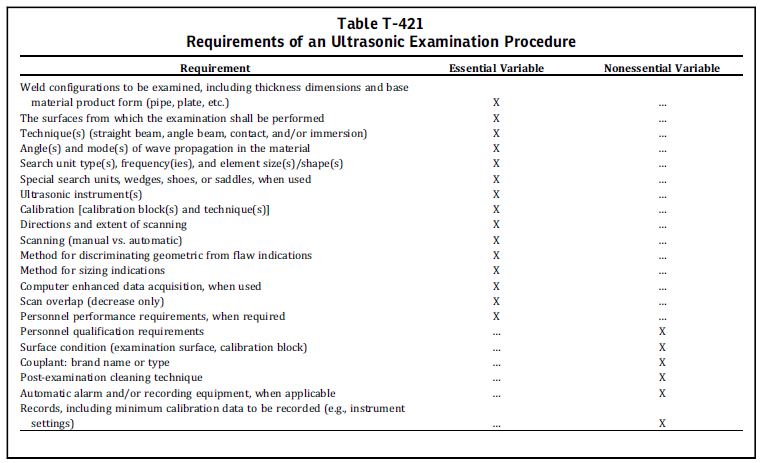 The developed procedure will be more informative if it has a scanning sketch attached with it.
Here is an example of scanning sketch :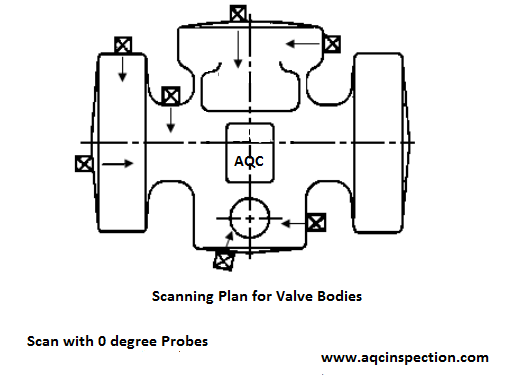 For more knowledge of how to make a Ultrasonic testing procedure?
Procedure approval, Non Destructive testing services or training and certification in NDT courses visit us at https://aqcinspection.com. We strive to be the best NDT & material testing Company and best NDT training Institute .
Get our updates from https://ndtcenter.blogspot.com/