Capture Setup Creation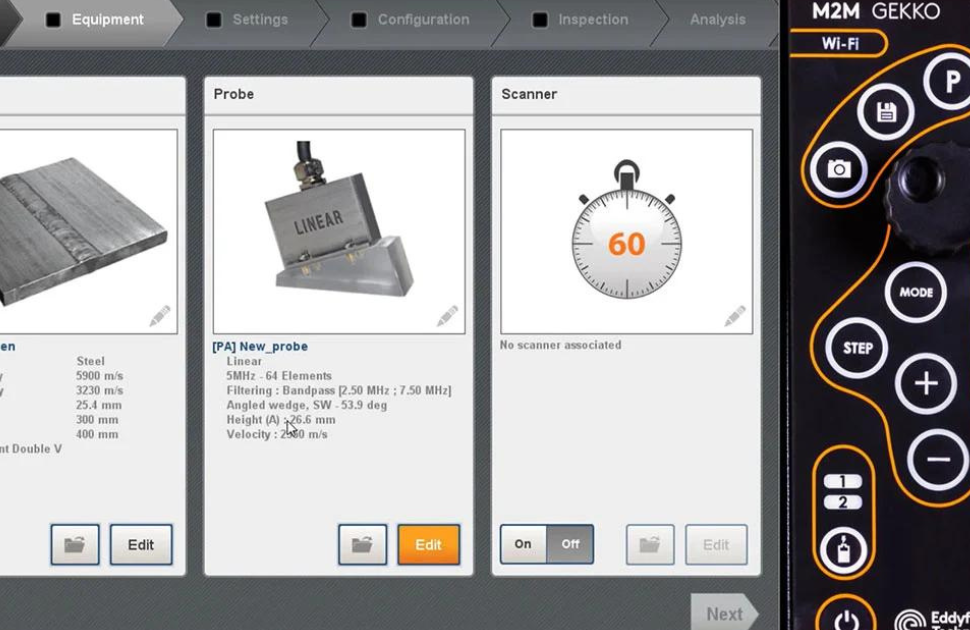 What will I learn
image credit @eddyfi
Welcome to the world of Capture Setup Creation, a crucial aspect of ensuring seamless and efficient ultrasonic inspections using the versatile Gekko and Mantis systems. Join us in this comprehensive series of video tutorials as we guide you through the process of creating optimal setups for PAUT, TOFD, and TFM inspections using the Capture software.
A well-designed setup is the foundation of a successful ultrasonic inspection, enabling a smooth workflow from initial configuration to final reporting. In this course, we will equip you with the knowledge and skills to create accurate and efficient setups, maximizing the capabilities of the Gekko and Mantis systems.
Key topics covered in this series of video tutorials include:
Introduction to Capture Setup Creation: Gain an understanding of the importance of setup creation in ultrasonic inspections. Explore how a well-designed setup ensures accurate data acquisition, efficient workflow, and reliable results for PAUT, TOFD, and TFM inspections.
Overview of Gekko and Mantis Systems: Familiarize yourself with the versatile Gekko and Mantis systems and their capabilities. Understand the components and functionalities of these systems, including the probes, wedges, data acquisition units, and software interfaces.
Capture Software: Explore the Capture software interface, specifically designed for efficient setup creation and control of ultrasonic inspections. Learn the key features and tools available in the software, enabling you to optimize the setup configuration and tailor it to specific inspection requirements.
PAUT Setup Creation: Learn the step-by-step process of creating a PAUT setup using the Capture software. Understand the parameters involved in setting up the phased array probe, such as probe types, focal laws, beam steering, and inspection parameters. Discover techniques to ensure proper probe positioning and alignment for accurate data acquisition.
TOFD Setup Creation: Dive into the creation of a TOFD setup using the Capture software. Learn how to configure the TOFD probe, including probe types, wedge angles, and inspection parameters. Gain insights into setting up the transmitter and receiver configuration for precise time-of-flight measurements and flaw detection.
TFM Setup Creation: Explore the advanced setup creation for Total Focusing Method (TFM) inspections using the Capture software. Understand the parameters involved in creating TFM setups, such as aperture settings, focal laws, and imaging parameters. Discover techniques to optimize TFM setups for enhanced imaging and flaw detection.
Workflow Optimization: Learn techniques to optimize your setup creation workflow using the Capture software. Discover time-saving tips, such as creating templates, reusing setup configurations, and automating repetitive tasks, to enhance productivity and efficiency in inspection setups.
Best Practices and Troubleshooting: Explore best practices for effective setup creation and troubleshooting common issues that may arise during the process. Learn techniques to ensure the accuracy and reliability of setups and overcome challenges to achieve optimal inspection results.
Master the art of Capture Setup Creation and unlock the full potential of the Gekko and Mantis systems for your ultrasonic inspections. Enroll in this comprehensive series of video tutorials and gain the knowledge and skills to create accurate, efficient, and reliable setups using the Capture software.
Registration link:
About this institute
Institute Name : Eddify Academy
Language : English
Charge : Paid
Location : Quebec
Mode : Yes
At Eddyfi, we believe in the power of blended learning - the perfect fusion of e-Learning and classroom-based training. This approach optimizes training efficiency while considering the unique needs of every learner. We offer state-of-the-art blended training programs for most of our product lines, delivering an unparalleled training experience.
Our blended training courses typically begin with a thorough e-Learning module that covers the theoretical foundations and introduces the products. You can progress at your own pace, taking the time you need to fully grasp the concepts. Our courses feature quizzes and interactive exercises that allow you to assess your understanding and reinforce your knowledge.
After completing the e-Learning portion, you will participate in hands-on training sessions that dive into the practical aspects of using our products and their applications. Led by our seasoned experts, these sessions provide a deeper understanding of product functionalities, operation techniques, and advanced inspection methodologies.
Unparalleled Support and Expertise
Throughout both the e-Learning and hands-on training, our team of Eddyfi experts is readily available to answer any questions and provide guidance. We are committed to ensuring your learning journey is both engaging and enlightening.
Flexible Training Options
We offer our courses on set dates at our facilities worldwide, ensuring accessibility for learners across the globe. Additionally, we provide on-demand training, allowing you to tailor the program to your specific needs and schedule.
Planned Training Dates:
To view the planned dates for our upcoming courses, please visit our website or contact our training team for more information.
Elevate your skills, expand your knowledge, and unlock your true potential with Eddyfi's online training courses. Join us on this educational journey and become a master in the field of advanced non-destructive testing.