ULTRASONIC THICKNESS TESTING – HOW IT WORKS
An ultrasonic thickness gauge is a hand-held electronic device that tells the user the remaining thickness of the material being tested. This technique is most relevant specifically when the user only has access to one side of the material.
A probe (a piezo-electric transducer) is placed on to the material and the gauge then works by precisely measuring how long it takes for a sound pulse that has been generated by the probe to travel through that material – and reflect back from the inside surface. From this measurement, the thickness of the material is calculated and displayed on a digital screen.
Thickness measurements using ultrasound are extremely accurate (a resolution of 0.05mm is common); a huge range of materials can be measured from plastics to metals; and UT gauges can measure a very wide variety of thicknesses (from just a few tenths of a millimetre rising up to half a metre or more).
Nearly any application in the industrial production space is catered for with these specifications.
HOW UT GAUGES CAN SAVE YOU TIME AND MONEY
The industrial manufacturing environment is a space that is very often filled with a critical and complex network of pipework, vessels and boiler tubes. One of the leading causes of corrosion in food processing facilities is the extensive use of high-pressure water and steam, in combination with various corrosive agents (alkaline, acidic, oxidizing, and reducing chemicals), for cleaning purposes. Corrosion in food manufacturing environments is a significant issue because it can lead to equipment failures and thus costly downtime as well as having the potential to impact product safety and quality. A periodic preventative maintenance schedule that uses UT gauges to regularly inspect for corrosion or erosion (manifested in both cases by a loss of wall thickness) can allow the production facility to plan for downtime or even to avoid it altogether – if an issue is identified and subsequently rectified early enough.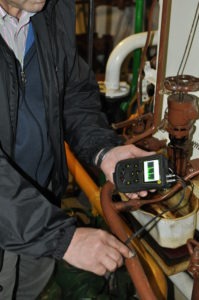 MULTIPLE ECHO – SIMPLICITY ITSELF
Cygnus Instruments designs and manufactures their full range of products in the UK and their UT gauges are known the world over because of their unique ultrasonic technique known as "multiple echo". This technique has one enormous time and money saving benefit; there is no need to remove any coatings from the material being measured. The multi echo technique will in fact ignore coatings (up to 20mm thick) which means that no time is spent removing them and no money spent re-applying them.
The Cygnus 4+ UT gauge also comes equipped with a data-logging feature that allows the user to monitor assets within the manufacturing facility over time; this should allow for maintenance to be pre-planned and timetabled conveniently because the asset's end of life can be predicted – and therefore, again could save time and money.
A RANGE OF FEATURES TO USE
While the Cygnus 4+ has been specifically designed to be easy to operate, it also has an excellent array of key features including: versatile measuring modes (multiple-echo, single-echo and echo-echo); an A-scan display that helps to verify true back wall readings in difficult measuring applications; data logging that stores up to 500,000 readings with their A-scans; and MSI™ (Measurement Stability Indicator) which verifies stable and reliable readings.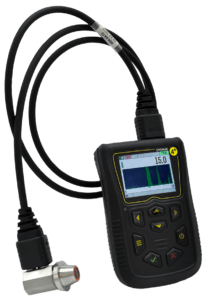 The gauge has a large colour LCD display that can be viewed in all lighting conditions, an easy to use keypad and an intuitive menu. The gauge body has been designed to be comfortable to hold and protects against bumps whilst offering maximum strength with its hard-internal shell. This gauge has been rigorously tested to military specification: drops from height onto concrete; extreme vibrations and; extreme temperatures – and is also completely environmentally sealed to IPX7 and IP6X.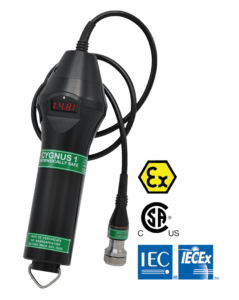 EXPLOSIVE ENVIRONMENTS
Also available from Cygnus is the world's only ultrasonic thickness gauge that has been certified intrinsically safe to the highest possible ATEX rating; this makes it the number 1 choice for all engineers working within potentially explosive environments – such as soy and flour production.
Certified intrinsically safe to Class 1, Div 1 ("Zone 0") for ATEX, IECEx and CSA-US means that the Cygnus 1 Intrinsically Safe thickness gauge is ideal for use in Zone 0, Zone 1 hazardous areas and requires no shutdown or "hot work permit".