Pioneers of the multiple-echo measuring technique which has long since been an industry standard for through coating measurement of material thickness, Cygnus thrive on developing a product range that is application-driven and user-focused.
Designed for the Engineer who needs to take quick and accurate thickness measurements, the MK5 Cygnus 4+ is a highly reliable, extremely rugged and simple to use ultrasonic thickness gauge.
The unit is perfect for testing levels of wear and corrosion on industrial machinery, factory infrastructure, boiler tubes and pressure vessels. This gauge has been rigorously tested to military specification: drops from height onto concrete, extreme vibrations and extreme temperatures – and is completely environmentally sealed to IPX7 and IP6X.
While the Cygnus 4+ has been specifically designed to be easy to operate, it also has an excellent array of features including: versatile measuring modes (multiple-echo, single-echo and echo-echo); an A-scan display that helps to verify true back wall readings in difficult measuring applications; data logging that stores up to 500,000 readings with their A-scans; and MSI™ (Measurement Stability Indicator) which verifies stable and reliable readings.
The gauge has a large colour LCD display that can be viewed in all lighting conditions, an easy to use keypad and an intuitive menu. The gauge body has been designed to be comfortable to hold and protects against bumps whilst offering maximum strength with its hard-internal shell.
Cygnus' most advanced gauge in the MK5 range is the Cygnus 6+ PRO. Developed with a primary focus on the non-destructive testing industry, the Cygnus 6+ provides the same features as the Cygnus 4+ as well as comprehensive data logging, B-scan, Bluetooth™ and a dual display.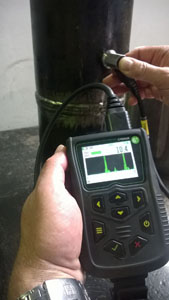 Also available is Cygnus 1, the world's only ultrasonic thickness gauge that has been certified intrinsically safe to the highest possible ATEX rating: Group I & Group II / CSA Class 1 Group A, B, C & D Division 1; this means that the Cygnus 1 Intrinsically Safe thickness gauge can be used in Zone 0, Zone 1 hazardous areas – and requires no plant shutdown or hot work permit. This makes it the number 1 choice for all engineers working within potentially explosive environments such as food processing plants.