Magnetic Particle Testing is a widely used non-destructive testing method as it is extremely simple and faster to apply than other methods. Part surface preparation is also not that critical when it is compared to other methods. Magnetic Particle Testing uses small magnetic particles, i.e. iron filings and magnetic fields, to discover defects on the components. The one criteria that need to be fulfilled is that the component which is being inspected should be made of material that can be magnetized, i.e. ferromagnetic material, for example - cobalt, iron, nickel, etc.

Now, let's move on to the part that describes the principle of magnetic particle testing in detail.

Principles of Magnetic Particle Testing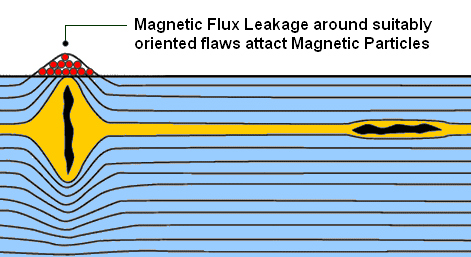 ● If the center of a bar magnet is broken, it will result in two different bar magnets having their own magnetic poles at both ends. But if there's only a crack in between, then at each edge of the crack, the north and south pole will be shaped.
● When the magnetic fields get introduced with the small air gap, which has been developed due to the crack, the magnetic field spreads out because the air is not able to support the magnetic field per unit volume when compared to the magnet. So, when the magnetic field spreads out, it seems to leak out of the material, and hence, this is known as a flux leakage field.
● Moreover, if the iron particles are drizzled over the bar magnet where it has been cracked, the iron particles will be clustered and attracted to the poles located at the end of the magnet as well as to the poles at the edges of the cracked point. The cluster of magnetic particles is understandable and easier to watch than the existing crack, and therefore, this becomes the ground for magnetic particle inspection.
● Now, the next step that needs to be performed is to magnetize the component while doing magnetic particle inspection. If any flaws are detected on the surface, a leakage field will be created by the flaws.
● Therein the components are magnetized, and the iron particles, no matter which forms they are in, i.e. wet or dry suspended form, are applied to the surface of the magnetized portion.
● Thus, the iron particles will be clustered and get attracted to the flux leakage fields, which leads to forming a noticeable indication that can be detected by the inspector.
This particular method detects various elements that include weldments, forging & casting. There are so many industries that opt for magnetic particle testing, like petrochemical, power generation, automotive, aerospace, and steel industries. Magnetic particle testing can also be utilized for underwater inspection, where it can be used for testing underwater pipelines and offshore structures.

Conclusion:

Got any doubts regarding magnetic particle inspection? Feel free to drop your queries to the One Stop NDT team and get their respective solutions from experts.