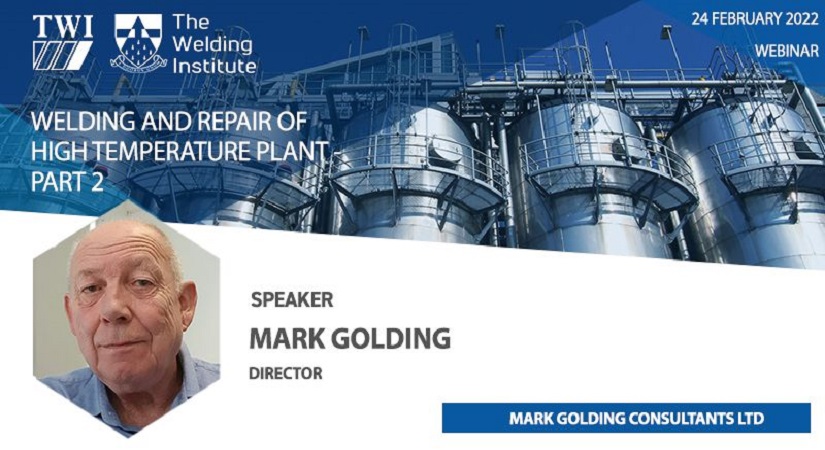 Welding and Repair of High Temperature Plant - Part 2
We are pleased to announce Mark Golding as a speaker at The Welding Institute's webinar, 'Welding Processes Technical Group Meeting: Welding and Repair of High Temperature Plant - Part 2', on 24 February.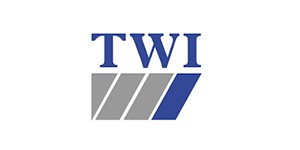 Welding Processes Technical Group Meeting: Welding and Repair of High Temperature Plant - Part 2
This webinar is the second half of a two-part series on the welding and repair of high temperature plant and will be of interest to anyone working in the power generation or process plant industries, either in manufacturing or those responsible for the maintenance and repair of pressure equipment.
It will be of particular interest to welding engineers and designers, covering developments in joining technologies and welding consumables, production of bespoke items in high temperature materials and the justification for the lowering of PWHT temperature for P/T91 steel.

Experts from industry and TWI will be presenting on a range of topics:

Mark Golding, MD of Mark Golding Consultants will present on the current status and developments of electro-slag cladding
Stephan Marre of Lincoln Electric on the orbital welding of high temperature pipework
Ronny Krein of Voestalpine Bohler on the challenges in developing welding consumables for creep resistant steels, particularly P/T91 and P/T9
Emily Davison of TWI on advances in the additive manufacture of high temperature materials
John Siefert of EPRI will be talking about the research carried out at EPRI into the PWHT of P91 steel.
PROGRAMME
FEES

Professional Members of The Welding Institute: £25 + VAT (£30)
Industrial Members of TWI: £25 + VAT (£30)
Non-members: £95 + VAT (£114)
Retired Members: £25 + VAT (£30)
Students: £25 + VAT (£30)
TWI Training School Customers: £70 + VAT (£84)
TWI Staff - please contact Becki Parratt if you wish to register.
Please note that payment must be made before the event in order to receive the joining instructions for the event.
ASSOCIATE MEMBERSHIP (AWeldI) OF THE WELDING INSTITUTE

Registering on this Technical Group webinar as a non-member or a TWI Training Customer gives you full Associate Membership (AWeldI) for one year. To activate your membership, just complete the highlighted fields on the event registration form.

You will also benefit from:

Discounted registration fees for Technical Group events (£25 + VAT)
Free attendance at Branch events
Access to our knowledge database including our library and information services
BENEFITS OF ATTENDING THIS WEBINAR
Information transfer from experts
Discussion, questions and answers on the specific topics
A broader understanding of the extent of standards in the industry
Attendance of this event qualifies for CPD
CONTINUOUS PROFESSIONAL DEVELOPMENT (CPD)
The Welding Institute awards points towards CPD for delegates attending this webinar. Every hour attendance of an event will earn 2 points towards your continuing professional development.

Please contact becki.parratt@twi.co.uk if you require a certificate of attendance towards your continuing professional development.

Speakers

Dr John Siefert - Program Manager, Materials and Repair (P229)
EPRI
John has executed and led research and development activities in the power industry for 15 years. His background includes extensive exposure to in-service failures, life management and repair challenges. Over his career John has published >150 documents specific to these challenges.
His presentation will provide the rationale for recent rule changes in ASME B&PV Code rules for reducing the minimum post weld heat treatment temperature from 705 or 730°C to 675 or 705°C. The information will include supporting evidence and data for these reductions.

The audience will gain an appreciation regarding the type(s) of relevant data necessary to justify similar changes in the future. All too often the basis for changes in new construction or material specifications are based on simple or cheap testing methods with little thought given to the relevance of the outcomes for the end-user or designer.

Stephan Marre - Industry Segment Manager
Lincoln Electric
Stephan Marre is currently working in a welding consumable and welding equipment manufacturing company providing Industry leading welding solutions with my extensive practical and theoretical knowledge of all major welding processes,
Qualified European and International Welding Engineer and registered as Incorporated Engineer at the British Engineer Council having spent the first 4 years of his career working as a Welding Technician and Engineer in France. After moving to the UK, Stephan worked 2 years for a global Oil and Gas company

Today, Stephan's position is Industry Segment Management, a position held since March 2018, supporting top accounts and developing full industry solutions in order to solve customer issues and needs.

Mark Golding - Director
Mark Golding Consultants Ltd
40+ year experienced professional with a demonstrated history of working in the mechanical and industrial engineering industry. Previous experience in Gas, Petroleum, Power Plants, Pipelines, Repair and Reclamation industries. Strong support professional with a metallurgical/engineering bias. Development of welding processes such as GMAW, GTAW, SAW and ESW in synergy with the welding consumables to develop process efficiency and the metallurgical benefits.
Mark has previous experience within companies such as Oerlikon, Soudometal-Bohler and Lincoln-Metrode. Mark has developed consumables, managed procurement and supply chains, developed sales in export markets in the EMEA - India - Africa and managed a technical support function and development.

Dr Ronny Krein - Specialist Welding Technology
Voestalpine Böhler Welding Germany
Experience in development and qualification of creep resistant steels. Experience in assessment of creep rupture data for base material and welded joints. Member of national and international high temperature material committees. International welding engineer and technical consultant for global customer at Böhler Welding.
Emily Davison - Project Leader - Laser Additive Manufacturing

Dr Emily Davison joined TWI as a Project Leader in the Laser Additive Manufacturing (LAM) section in 2018. Her current role focuses primarily on Laser Metal Deposition (LMD) technologies, including leading the development of wire LMD (w-LMD) capabilities at TWI's Yorkshire facilities. She completed her PhD at the University of Sheffield in 2020, investigating LMD parameter optimisation for repair applications.