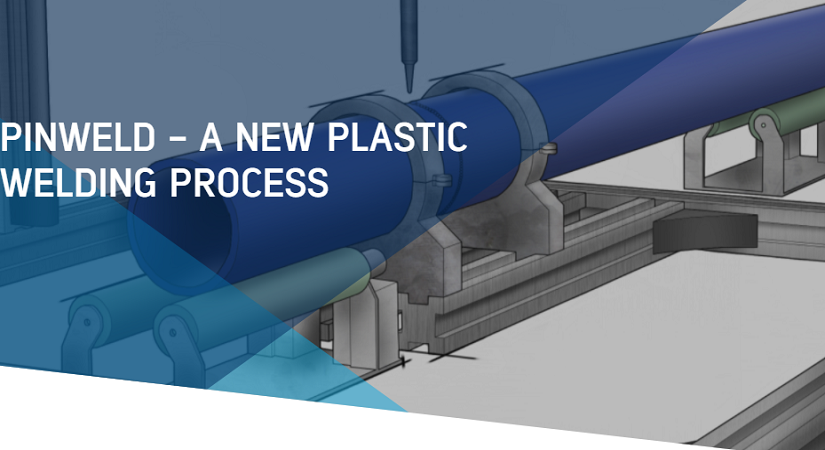 PINWELD - A NEW PLASTIC WELDING PROCESS
Pinweld - A New and Revolutionary Plastic Welding Process
TWI is working alongside Pinweld to deliver innovative solutions for fast and repeatable plastic pipe joining and repair.

Pinweld is a new plastic welding process that utilises a compact, lightweight, self-regulating, low-energy tool to join plastic components together. Unlike current technologies, which can involve expensive heating mechanisms and bulky equipment, the weld achieved by Pinweld uses a minimally invasive technique to precisely heat the interface of two plastic components. Pinweld was initially developed for joining flat sheets, where joint strengths close to parent material strength have been achieved for a range of plastic materials.

Pinweld is being developed as a primary plastic pipe welding technology for the oil and gas and utilities industries. Other global markets with significant potential include chemical processing, nuclear, hydrogen and power. A code of practice (in consultation with industry representatives) will be developed and this may be used to inform a formal Standard for welding pipes using the Pinweld technology.

Scott Andrews from TWI and Keven Chappell from Pinweld will present on the joint project and the latest developments.

Speakers

Keven Chappell - Technical Director, Pinweld
Keven is the technical director of Pinweld in the UK. He is the inventor of the technology and leads on R&D. After serving in the Royal Air Force as an engineer, Keven later became a consultant within the field of thermographic NDT. A prolific problem solver, Keven refined the original Pinweld technology to assist a client by welding sheet Polypropylene while retaining its flexibility and strength characteristics. This solution came to the attention of stakeholders in the UK's automotive body repair industry and culminated in winning a prestigious UK Government grant to develop the technology with the University of Bath and TWI Cambridge. Keven holds a BSc in Mathematics and a MSc in Technology Management.
Scott Andrews - Principal Project Leader, Novel Polymer Technologies Section

Scott is currently working as a principal project leader in the novel polymer technologies section at TWI. Scott has been involved in plastics welding research for over 20 years. His primary role is to lead and deliver research projects relating to plastics welding, typically providing plastics welding consultancy for medical and automotive products (in particular joint design for welding), proof of welding feasibility, plastics welding troubleshooting, welding machine specification and validation for entering production.

In addition, Scott manages the day-to-day running of TWI's Plastics Welder Training and Examinations business, and is currently a CSWIP approved Plastics Welding Examiner.

Scott's areas of expertise covers all plastics welding processes - in particular ultrasonic welding, plastics welding equipment, analysis of plastic welds, plastic materials - including high-temperature thermoplastics as well as wood welding and wood polymer composite welding. Scott has successfully led many small to large polymer welding projects for a variety of applications, across a number of industry sectors (medical, automotive, power, aerospace, oil and gas, construction).