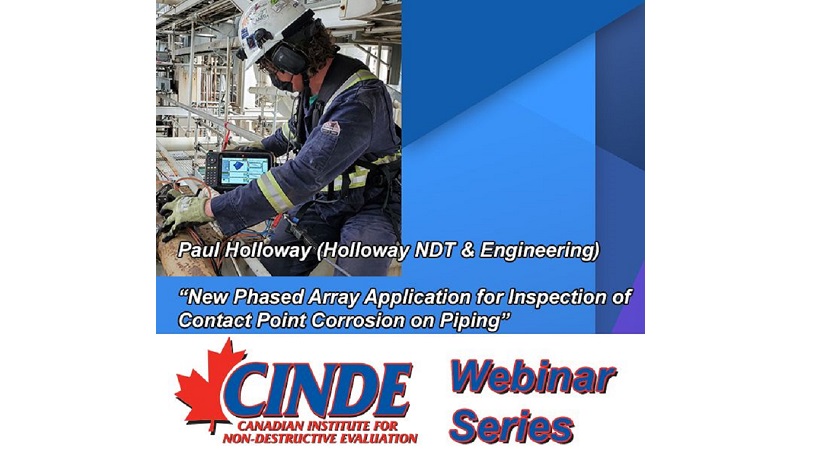 New Phased Array Application for Inspection of Contact Point Corrosion on Piping
- New Phased Array Application for Inspection of Contact Point Corrosion on Piping (Oct 7, 2021 at 12:00pm EST)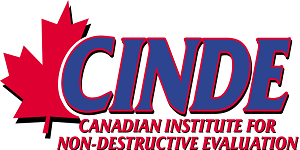 Webinar Series - New Phased Array Application for Inspection of Contact Point Corrosion on Piping (Oct 7, 2021 at 12:00pm EST)
CINDE Member Webinar Series

Date: October 7, 2021

Time: 12:00pm EST
Duration: 60 minutes
Topic: New Phased Array Application for Inspection of Contact Point Corrosion on Piping
Presenters: Paul Holloway (Holloway NDT & Engineering Inc.)
Abstract:

Inspection of contact point corrosion has been a longstanding challenge in NDT. Pipe resting on supports often exhibits corrosion at the touch point which due to limited access cannot be inspected by traditional direct methods. Numerous techniques have been developed and deployed over the past 20 years to address this challenge including piezoelectric and EMAT ultrasonic methods. Recent research into the application of phased array ultrasonic testing (PAUT), developed as the PA-CATTM technique, provides a robust, effective solution which utilizes existing PAUT instrument, probes, and scanners.
Presenter Bio:
Paul Holloway, President of Holloway NDT & Engineering Inc. is a Professional Engineer and UT Level 3 based out of Ontario, Canada. He has a Master's degree in Mechanical Engineering and has nearly 20 years experience in ultrasonic testing. He specializes in providing field services, research and development, NDT training and consulting. He regularly publishes articles for industry journals and hosts a popular YouTube channel related to UT.
Free to the NDT community. Registration required by Oct 5 at 12:00pm EST. Confirmation email with login information will be provided via email on Wednesday, Oct 6, 2021.