Business Development Manager
ASNT India Pvt Ltd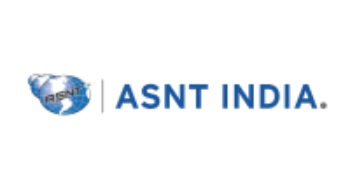 ASNT India Pvt Ltd's mission is to advance the nondestructive testing (NDT) and assessment (NDE) industry in India through personnel certification and qualification credentials and high-quality training. The Company is a subsidiary of the American Society for Nondestructive Testing, Inc. (ASNT) the global leader in serving the nondestructive testing industry. The Company serves many sectors including oil and gas, power generation, infrastructure and construction, aerospace, and more.
The business development manager (BDM) serves as a key member of ASNT's go-to-market (GTM) team responsible for building the Company's sales in India and the region. They will work closely with the Company's general manager, technical specialists, and administrative staff, with the ASNT, Inc. staff and volunteers, and ASNT member volunteers to implement and sustain the Company's business operations in the region.
The BDM reports to the General Manager, ASNT India Pvt Ltd, and is located in the Company's Chennai office. The position requires travel across India and internationally.
Responsibilities Include:
The BDM is responsible for:
Developing and implementing a business development plan with revenue goals.
Researching prospective accounts in target markets.
Generating and pursuing leads and moving them through the sales cycle.
Developing quotes and proposals for prospective clients.
Keep records of sales, revenue, invoices etc.
Developing and nurturing relationships with key customer accounts.
Identifying market opportunities through meetings, networking, and other channels.
Keeping up with the latest industry developments, including market positioning of competitors.
Assessing client needs and the company's ability to meet those needs.
Preparing status reports on sales goals.
Using customer relationship management (CRM) and other software tools to manage the business development function.
Participating in conference exhibits and other selling activities to present the Company's products and services.
Coordinating with the Team internally in preparing the course schedules and communicating those with the customers.
Building up relationship with public, corporate, & private companies, NDT agencies, training centers, and manpower agencies to promote our product and services.
Creating and maintaining supplier and vendor network and working closely with authorized training centers.
Any other responsibility assigned by the GM from time to time.
Required qualifications:
4-year bachelor's degree in business, marketing, or a relevant technical field.
At least 5 years' experience managing business development for a technical services or equipment company.
Experience selling in the nondestructive testing industry or other equivalent technical industry.
Excellent communication, project management, and organizational skills. Preferred qualifications:
Knowledge of ASNT, Inc. and its products and services.
An MBA or relevant graduate degree.