Lyft Pulsed Eddy Current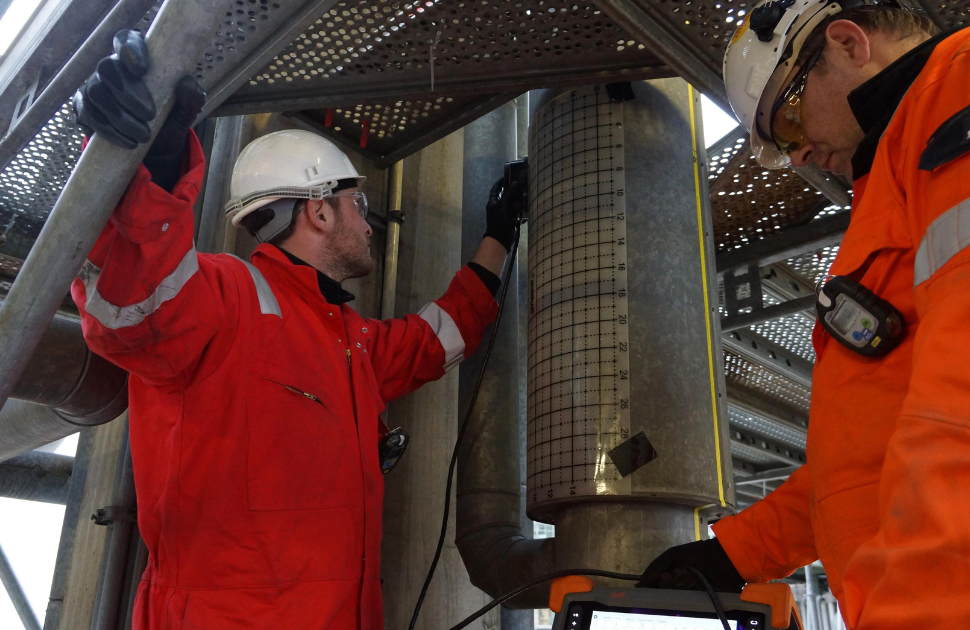 What will I learn
image credit @eddyfi
Training is essential for mastering the art of Pulsed Eddy Current (PEC) inspection. Eddyfi presents a comprehensive and in-depth blended PEC training course that equips participants with the knowledge and skills required to confidently operate the Eddyfi Lyft® system. This course combines both online and hands-on training to ensure a thorough understanding of PEC inspection principles and practical application.
The training journey begins with a comprehensive 10-hour e-Learning program that delves into the theory behind pulsed eddy currents, data interpretation, and analysis techniques. This online component lays the foundation for the hands-on training and provides a solid understanding of the core concepts.
Following the completion of the e-Learning, participants join us for an intensive 2-day hands-on training session. During this interactive training, participants gain practical experience using the Eddyfi Lyft® system under the guidance of experienced instructors. The training culminates with a practical exam, allowing participants to demonstrate their newly acquired skills.
Upon successfully completing the hands-on training and passing the exam, participants receive a certificate recognizing their achievement. Additionally, learners are granted exclusive access to the comprehensive Lyft e-Learning package, which includes advanced analysis modules and specialized video tutorials covering various specific applications.
Our PEC training course is designed to meet the rigorous standards set by ASME Section V for the training of PEC technicians. By completing this course, participants fulfill the necessary requirements to become proficient PEC technicians, prepared to handle real-world inspection challenges with confidence and expertise.
Prerequisites:
Completion of PEC 2.3 e-Learning is mandatory before attending the hands-on training.
Course Highlights:
Comprehensive e-Learning program with close to 10 hours of engaging content.
2-day hands-on training conducted in a classroom setting.
Hands-on exam to assess practical skills.
Certificate awarded upon successful completion of the hands-on exam.
Access to the full Lyft e-Learning package for 1 year, including advanced analysis modules and specialized application tutorials.
Invest in your professional growth and join our comprehensive Pulsed Eddy Current (PEC) Inspection Training to become a skilled and knowledgeable PEC technician. Gain the confidence to operate the Eddyfi Lyft® system effectively and excel in the field of non-destructive testing.
Note: Course availability and schedule may vary. Please refer to our website for the latest updates and registration details.
Registration link:
https://shop.eddyfi.com/products/lyft-pec-classroom?variant=42601300721842
About this institute
Institute Name : Eddify Academy
Language : English
Charge : Paid
Location : Houston
Mode : Hybrid
At Eddyfi, we believe in the power of blended learning - the perfect fusion of e-Learning and classroom-based training. This approach optimizes training efficiency while considering the unique needs of every learner. We offer state-of-the-art blended training programs for most of our product lines, delivering an unparalleled training experience.
Our blended training courses typically begin with a thorough e-Learning module that covers the theoretical foundations and introduces the products. You can progress at your own pace, taking the time you need to fully grasp the concepts. Our courses feature quizzes and interactive exercises that allow you to assess your understanding and reinforce your knowledge.
After completing the e-Learning portion, you will participate in hands-on training sessions that dive into the practical aspects of using our products and their applications. Led by our seasoned experts, these sessions provide a deeper understanding of product functionalities, operation techniques, and advanced inspection methodologies.
Unparalleled Support and Expertise
Throughout both the e-Learning and hands-on training, our team of Eddyfi experts is readily available to answer any questions and provide guidance. We are committed to ensuring your learning journey is both engaging and enlightening.
Flexible Training Options
We offer our courses on set dates at our facilities worldwide, ensuring accessibility for learners across the globe. Additionally, we provide on-demand training, allowing you to tailor the program to your specific needs and schedule.
Planned Training Dates:
To view the planned dates for our upcoming courses, please visit our website or contact our training team for more information.
Elevate your skills, expand your knowledge, and unlock your true potential with Eddyfi's online training courses. Join us on this educational journey and become a master in the field of advanced non-destructive testing.