Back to Companies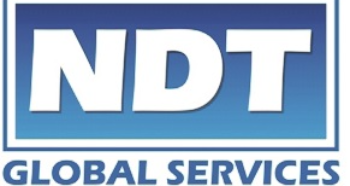 NDT Global Services Limited
Providing specialized Inspection, Calibration, Service and Sales for the global market.
Product, Service,
United States
Overview
NDT Global Services Limited is a specialist Non-Destructive Testing and Inspection company operating nationally and globally, providing innovative engineering and services for a multitude of industries including oil, gas, chemical and offshore. We specialise in providing a broad spectrum of inspection and test equipment for inspection companies, process plant, manufacturing and service industries for a worldwide market.
Our company operates in conjunction with a worldwide network of representatives and has supplied equipment to over 50 countries. We have built a reputation for innovation and solution based logistical thinking, inspection and engineering excellence, and the provision of its own experience and trusted inspection engineers for high quality, precision projects.
Suppliers of NDT Equipment, including Ultrasonic Flaw Detection & Thickness Measurement. Portable Hardness Testing. MPI & DPI Chemicals and NDT Equipment. Eddy Current, X-Ray Systems & Compounds. X-Ray Safety & Darkroom Accessories. Agfa X-Ray Film, Film Processors & Chemicals. Bespoke Automated NDT Systems including Robotics.
Partnerships with main OEM NDT Businesses including Waygate Technologies (GE/Krautkramer), Magnaflux & Proceq Full UKAS & BS/EN Certification of UT Equipment & UT Test Blocks . Full range of both UT & EC Test/Calibration Blocks. Onsite & In-House repairs and Calibrations NDT Sub Contract Inspections of Guided Wave and Corrosion Mapping - Onshore & Offshore.
Products & Services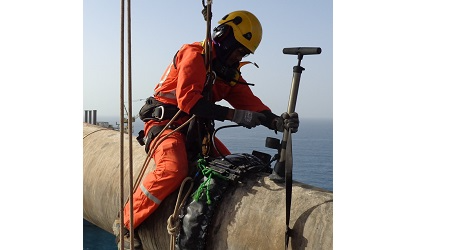 Guided Wave Inspection
NDT Global Services specialises in Guided Wave Testing (GWT). Our Level 1, Level 2 and Level 3 engineers have extensive experience providing rapid data analysis, operating worldwide in varying environmental climates.

Guided Wave Testing using the Wavemaker Pipe Screening System uses ultrasonic guided waves, sent along the length of pipe, to non-destructively test pipes for defects and other irregularities by detecting changes in the cross sections of the pipe. It is a non-invasive inspection technique permitting for the inspection of a vast range of lines whilst they remain operational. Little preparation of the line is required. The test can range up to 50m in either direction from the test location, up to 100m of line can be inspected in one test. Pipe sizes from 3/4" to 84" can be tested using the GWT method.

API inspection of in-service metallic piping systems can be incorporated into any NDT Global Services inspection projects. Our team of engineers are Rope Access qualified IRATA level 1-3 to fulfill any project requirement.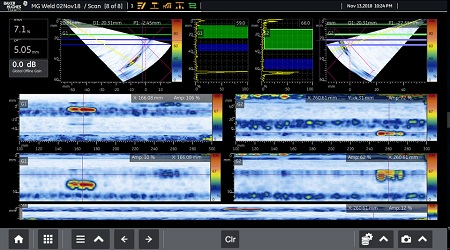 Corrosion Mapping
Phased Array Corrosion Mapping technology is an advanced method of volumetric inspection using ultrasonic testing principles. In addition to multi-directional imaging of inaccessible backwall corrosion (or other wall thickness reductions such as abrasion or erosion), other applications for PAUT include highly detailed weld inspection, crack detection and visualisation of anomalous material inclusions.

Innovative electronic 'beam steering' enables the production of a fully active volumetric ultrasonic beam which allows for significantly increased sensitivity along with rapid data collection and detailed defect resolution. The Corrosion Mapping inspection method utilises an array of ultrasonic elements incorporated within an X-Y-axis scanner enabling precisely position-encoded circumferential and axial data collection from an asset.

The high-resolution imaging obtained using PAUT is achieved by utilising an effective 50mm wide ultrasonic beam collecting A-scan data across a matrix resolved to 0.5mm increments in both the X and Y directions. By combining the vast array of ultrasonic data collected from a single pass, 100% coverage of the inspection area is ensured. The high sensitivity of the phased array beam allows for detection of deflected and/or diffracted signals which ultimately allows for in-depth defect characterisation by imaging the true morphology of the damage mechanisms.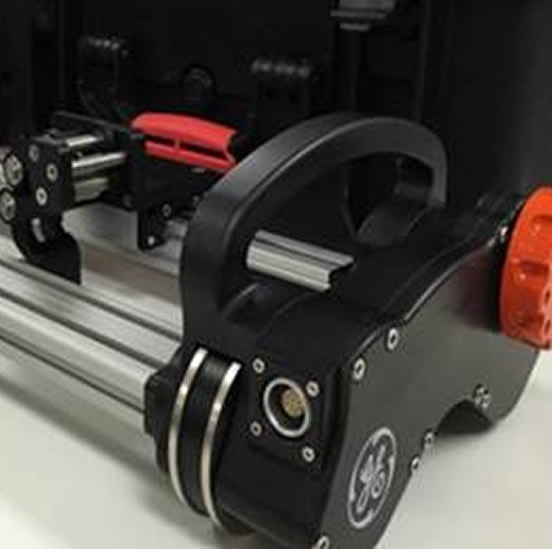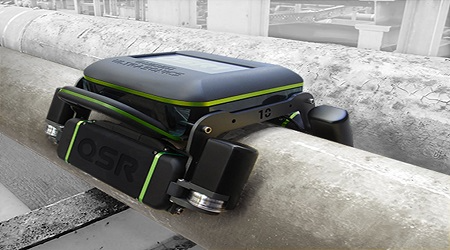 Corrosion Under Pipe Supports
The Quantitative Short Rang system is designed to semi-automatically scan predefined sections of straight pipelines for corrosion under pipe supports. At each location along the pipe QSR1 automatically measures the pipe diameter, distance between Transmitter and Receiver, top Path wall thickness, bottom path wall thickness and the bottom path minimal wall thickness. QSR is capable of measuring the size of corrosion to the depths of up to half of the pipe wall thickness.

Inspects pipes on simple supports for touch point corrosion
Uses an innovative method for processing multimode signals that are sent around the circumference of the pipe
Scans along the top of the pipe under its own power
Uses motorised wheels to navigate the pipe
Measures quantitatively down to half wall loss and qualitatively for greater wall losses
Has axial resolution of 30mm
Adapts to inspect pipes of 8 to 16 inch diameter and ¼ to ½ inch wall thickness
Inspects through thin coatings and needs no couplant