Back to Companies
MFE Middle East
MFE Middle East, Inc. is dedicated to providing NDT technicians with access to the most advanced NDT and RVI equipment available. Whether you are interested in equipment rentals, sales, calibrations, or repairs, MFE Middle East, Inc. can take care of all your NDT and RVI equipment needs.
Product, Service,
United Arab Emirates
Overview
MFE Middle East leads the market in NDT, RVI and Environmental inspection equipment. Working with top manufacturers, we provide quality equipment sales and rentals for industry professionals. Reduce upfront costs and get what you need, when you need it with MFE Middle East .
Our Equipment
When you rent equipment from MFE Middle East , you are assured of its quality, dependability, accuracy, and the expertise that stands behind the equipment.
All MFE Middle East inspection equipment is maintained by highly experienced inspection specialists with an extensive industry specific knowledge base. MFE Middle East will ensure you get the right equipment for your specific application delivered on time, and in the proper condition, so that your inspection is fast, accurate, and cost effective.
MFE Middle East continually adds new equipment to its inventory and designs and builds for custom applications. If you don't see the equipment you need here or if you're not sure what kind of equipment would best meet your inspection needs, please give us a call.
Non-Destructive Testing Equipment Rentals
When it comes to NDT equipment, we are the professionals! With over 20 years of experience working with and manufacturing NDT equipment, you can be sure you will get the right tool for the job! From ultrasonic testing, passed array, flaw detection, positive material identification, infrared cameras, hardness testers and magnetic flux leakage testing; MFE has the right NDT equipment for the most challenging turnarounds, shutdowns and emergency outages.
Remote Visual Inspection Equipment Rentals
Here at MFE Middle East we pride ourselves on Field Experience and Result Driven Solutions. MFE offers portable and easy to use (RVI) Remote Visual Inspection equipment. A wide range of videoscopes, fiberscopes, rigid borescopes and pipe camera systems in various diameters, lengths, viewing options and resolutions are available, making our equipment suitable for even the most demanding of inspection requirements.
Products & Services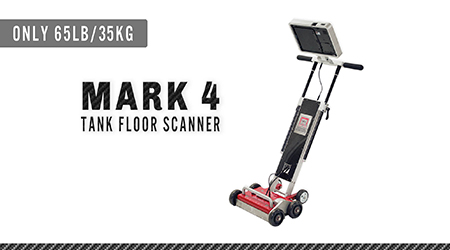 Mark 4 Tank Floor Scanner
The Mark IV takes the precision, reliability, and durability of its predecessors to another level with upgraded, user-friendly software and a lightweight build. Its slim design boasts an unprecedented weight of only 65 lb.
The convenience of using the new Mark IV will be outweighed only by the confidence in its reporting features and ability to discover volume loss in real time with its true real-time display.
SOFTWARE
User-Friendly Software:
The software guides the operator through an intuitive process that begins with quickly generating a sketch of the tank floor bottom and ends with a comprehensive detailed MFL map of the tank floor bottom.
Real-Time Display:
The real-time "A-Scan" display features an LED signal response that runs concurrently with a "C-Scan" mapping preview that clearly illustrates where the defect is relative to the magnetic bridge. This allows defects to be located even faster and drastically eliminates the needs of the scanner to be constantly moving while locating defects.
Tank Floor Bottom:
In less than 10 minutes, the operator can quickly recreate the tank floor plate layout, including annular plates. Detailed information for each plate is not required until the operator is ready to begin the MFL scan.
Speed Tracking:
Our new speed tracking feature provides the operator immediate feedback so they are confident they are scanning within an optimal speed range, ensuring consistent, reliable, and accurate results.
Speed Compensation Software:
Speed Compensation Software allows operators scanning at different speeds to obtain the same results. The signal response is normalized when scanning within the speed tracking range.
Features
Manual & Mapping Modes
Fully Integrated Software
True Real-Time Display
Tank Drawing
Analytical & Reporting Features
Detachable handle
Fully Adjustable Handle
Advanced Mil-Spec Breakaway Cables
Integrated Electronics
Hot Swappable Batteries
65 lb/30 kg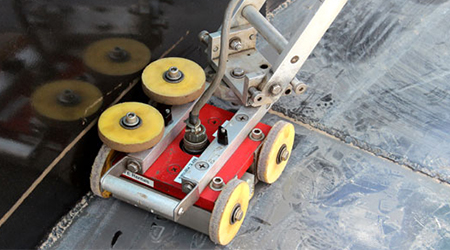 1212 Mark II Tank Floor Scanner
The MFE 1212 Mark II EdgeScan tank floor scanner gives accurate and consistent MFL inspection results.
With the addition of horizontal wheels and a pivoting handle, the EdgeScan tank floor scanner fits tight against storage tank shells. This unit saves users time and money as an alternative to scrubbing the critical zone as with ultrasonic testing.
View MFL inspection results on the clear and bright real-time display that is viewable even in sunlight. The Electronic Processing unit provides easy access to all control functions, and has been engineered with an improved signal to noise ratio.
The EdgeScan tank floor scanner folds down for easy transportation and includes a rugged, wheeled case that is great for air shipping.
Features
MFE Electronics Module Compatible
Panasonic ToughBook Compatible
Displays Digital Volume Loss Signals in real time
Adjustable Threshold
Adjustable Display Brightness capable of viewing in sunlight
Adjustable Gain for improving signal and reducing noise
Horizontal Guide Wheels
Pivoting Handle
Scan speeds up to 3 feet per second
Doubled Magnetic Material in Bridge
Perform through coating inspections
Perform inspections of thicker plate
6" Scan Width
Battery powered for over 12 hours of continuous use
Applications
In the USA, storage tanks operate under no (or very little) pressure, distinguishing them from pressure vessels. Storage tanks are often cylindrical in shape, perpendicular to the ground with flat bottoms, and a fixed or floating roof. There are usually many environmental regulations applied to the design and operation of storage tanks, often depending on the nature of the fluid contained within. Aboveground storage tanks (AST) differ from underground (UST) storage tanks in the kinds of regulations that are applied.
Storage tanks are available in many shapes: vertical and horizontal cylindrical; open top and closed top; flat bottom, cone bottom, slope bottom and dish bottom. Large tanks tend to be vertical cylindrical, or to have rounded corners transition from vertical side wall to bottom profile, to easier withstand hydraulic hydrostatically induced pressure of contained liquid. Most container tanks for handling liquids during transportation are designed to handle varying degrees of pressure.
Above Ground Storage Tanks
Industrial Wastewater Storage Tanks
Municipal Wastewater Tanks
Wastewater Treatment Storage Tanks
Bolted Storage Tanks
Fire Protection Water Storage Tanks
Food Storage Tanks
Industrial Storage Tanks
Epoxy-Coated Carbon Steel Tanks
Mineral Storage Tanks
Petrochemical Process Tanks
Petrochemical Storage Tanks
Petroleum Storage Tanks
MFL Pipe Scanner
The PipeScan from MFE Enterprises utilizes Magnetic Flux Leakage (MFL) technology to find defects in pipelines.
The MFL pipe scanner can inspect pipes with a diameter of 5" and up at a speed of up to 3 feet per second. PipeScan is capable of scanning through thin coatings to detect water, fuel and chemical leaks.
View digital volume loss signals in real-time on the included Getac Tablet display. With multiple MFL configurations, and fully adjustable threshold alarms, MFE PipeScan allows users to perform pipe and pipeline inspections quickly and accurately, ensuring that no defects will be missed.
Features
Adjustable Threshold
Mapping Capabilities
MFE Electronics Module Compatible
Panasonic ToughBook Compatible
50+ Signal Cable
Cover inspection areas from 8.25" to 16.5" in a single pass
Scan pipe diameters from 5" and up
Displays digital volume loss signals in real time
Scan speeds up to 3 feet per second
Perform through coating inspections
Applications
Gathering Pipelines
Types of Gathering Pipelines – These lines travel short distances gathering products from wells and then move to oil batteries or natural gas processing facilities.
Types of products transported in Gathering Pipelines – Natural gas, crude oil and combinations of these products sometimes mixed with water; and natural gas liquids (NGLs) such as ethane, butane and propane.
Feeder Pipelines
Types of Feeder Pipelines – Feeder lines move products from batteries, processing facilities and storage tanks in the field to the long-distance haulers of the pipeline industry, the transmission pipelines.
Types of products transported in Feeder Pipelines – Crude oil, natural gas and NGLs.
Transmission Pipelines
Types of Transmission Pipelines – Transmission lines are the energy-highways, transporting oil and natural gas within a province and across provincial or international boundaries.
Types of products transported in Transmission Pipelines – Natural gas transmission lines typically carry only natural gas and NGLs.
Crude oil transmission lines carry different types of liquids including crude oil and refined petroleum products in batches.
Petroleum product lines also move liquids such as refined petroleum products and NGLs.
Distribution Pipelines
Types of Distribution Pipelines – Local distribution companies (LDCs) operate natural gas distribution lines.
Types of products transported in Distribution Pipelines – Natural gas is moved along distribution pipelines to homes, businesses and some industries.