Back to Companies
dolphitech
Across all industries, dolphitech provides an unbeatable ultrasonic matrix imaging technology to inspect and detect damage, degradation, and defects in mission-critical assets.
Overview
Dolphitech manufactures the dolphicam2 for use within the Aerospace, Space, Automotive, Defence, Marine and Energy sectors. Worldwide industry leaders rely on us to ensure that throughout the design, manufacturing and in-service process the quality of their products complies with their customer requirements. Dolphitech is an ISO9001:2015 certified company that develop advanced ultrasound cameras for 2D and 3D test and inspection of materials. DolphiTech has developed a novel ultrasound transducer design that produces high-resolution images. We utilize an advanced technology developed by a team of experts in ultrasound, analogue and digital electronics. An ultrasound transducer is a device that transmits and receives ultrasound signals and converts electrical energy into acoustic energy. Our technology has industrialized well-known principles into a completely new design, product and production process. The basic technology is unique in the global context, and we have established co-development relationships with international agencies and research groups. dolphitech was established in 2009. THE HISTORY OF DOLPHITECH The origin of the technology produced by today's dolphitech was a solution for reading barcodes underneath a coat of car paint. The participants soon realized the technology might have a greater area of application, and the initial research started in 2005. In 2009 dolphitech was established and shortly after, the aviation industry picked up on its potential benefits for inspections of composite materials on aeroplanes. The development of dolphicam1 continued, and in 2011 the first version of dolphicam1 was released. The product was continuously enhanced with multiple new versions, though all only applicable to CFRP with thickness up to 18mm. In comparison to dolphicam2, dolphicam1 was a proof of concept but, was still a popular product with clients within aviation and automotive. OUR VISION In a material revolution where materials get stronger, lighter and more complex to produce, while detecting errors in production or damage in the field gets more difficult, we want to provide ONE platform with the most advanced technology, enabling a simple way to perform inspection across all materials.
Products & Services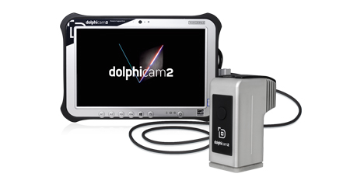 DOLPHICAM2
Dolphicam2 is a new ultrasound imaging platform for multi-material Non-Destructive Testing (NDT).

Our unique 2D matrix transducer technology enables a wide variety of transducer frequencies and custom transducer design. Digital signals enable impressive performance, with up to 100 datasets per sec from all 16 384. In addition, you get extreme data signal processing capacity, combined with the easy-to-use dashboard that makes Dolphicam2 the ultimate NDT tool.
FEATURES

Real-time images.
Frequency range from 0,5 to 15 MHz.
128 x 128 transducers electrodes.
16384 transducer elements.
Size 3,8 x 3,8 cm.
2D and 3D images.
A-, B-, and C-scans.
Amplitude & Time of flight.
Large area stitching.
THE DOLPHICAM2 PLATFORM

THE PLATFORM

Dolphicam2 is an ultrasound imaging platform developed for non-destructive testing (NDT). Our unique 2D matrix transducer technology comes with a wide range of transducer modules, so you`ll find one that serves your needs. It`s lightweight, small and flexible, easy to use and can be operated by both experts and non-experts on NDT. Dolphicam2 brings NDT inspections to a new level with its impressive performance and unique signal processing powers. It`s the fast, reliable and best choice for your NDT-needs.
UNIQUE COMBINATION OF FREQUENCIES AND COUPLINGS
With Dolphicam2 you can choose between different transducer modules and couplings of varying softness, hardness and sizes, which enable flexible and customized inspection of multiple materials.
SCANS

The Dolphicam2 Software has a user-friendly dashboard with highly customizable and configurable settings.
Real-time images.
2D and 3D images.
A-, B-, and C-scans.
Amplitude & Time of flight.
Large area stitching.
"Traffic light" colour palettes.
CONFIGURABLE SETTINGS:
Units, material depth, number of Amp Gates, number of Time of Flight
Gates, Material Sound Speed, Transmitting Elements, Analog
Gain, Number of Averages, Transmitting Pulse Shape, Time
Corrected Gain, Time of Flight Palette, Amplitude/B-scan
Custom Palettes
DOLPHITECH MATRIX TRANSDUCERS VS PHASED ARRAY
Dolphitech Matrix transducers have transducer elements placed in a 2-dimensional array. Since the transducer directly covers the area of inspection, no encoder system is needed to calculate the position of each element. Reducing the risk of positional errors due to faults or imprecision in the encoder system.
MATRIX ARRAY
Phased array transducers contain a number of individual transducers that can be pulsed individually to steer and focus the sound beam in a specific direction. Linear arrays are typically used in combination with an encoder system matching the signal with positional information to build a 2-dimensional image. The price will increase with the added number of elements and element gets smaller in size.
PHASED ARRAY
Substantial improvements in resolution are to be expected from a Dolphicam Ultrasound camera system compared to an Olympus MX phased array system.
MORE DATA THAN WE CAN USE

The TRM has 128 horizontal and 128 vertical transducer electrodes. This creates a transducer element where one horizontal line crosses a vertical line. In total 16.384 transducer elements send and receive sound to create the data, with a frame rate from 10 to 100 frames per second.
In short, our scans deliver more data than we can use for now. For you, this means that the product you buy today only will get better tomorrow.
ULTRASOUND AT ITS BEST

Spend less time calibrating and more time fixing. Turn on the device and start scanning. Dolphicam2 is ready to scan within a minute.
Large amounts of data are being processed to a user-friendly dashboard. The «Traffic lights» pallet, with real-time dataset streaming, visualizes the scan in a way that impresses experts, and lets non-experts understand what they see.