For one analyzer that does it all, specific to PHMSA and general pipeline requirements, pipeline operators now have SciAps Z-902 Carbon, a dedicated NDT/PMI analyzer for carbon content and a wide range of alloys and alloy bases. The newest handheld LIBS analyzer from SciAps provides carbon content, carbon equivalents, and concentrations of alloying elements Si, Ti, V, Mn, Cr, Cu, Ni, Nb, Mo and others. The dedicated Pipeline App addresses carbon and CE work especially for American Petroleum Institute (API) specification 5L.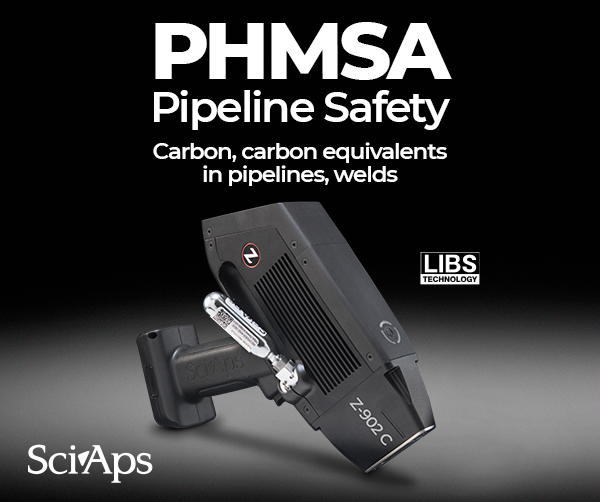 Similar to SciAps all-new XRF (X-ray) platform, the new LIBS (laser) series features sleek ergonomic design, a 0.5 lb. weight reduction down to about 3.5 lbs. (1.6 kg), improved heat dissipation, and completely updated software and processing electronics.
Part of the all-new Z-900 Series, the Z-902 Carbon features 2 spectrometers (instead of one in the Z-901) to extend the spectral range down to 190 nm with high resolution, specifically to measure carbon content in steels, stainless and other alloys. It's also factory calibrated for a suite of 15-20 elements in 7 common alloy bases: aluminum, steel, stainless, nickel, cobalt, titanium and copper bases. Additional bases or calibrations may be added by the factory or the user.
The SciAps LIBS analyzer is widely accepted by most major pipeline owner/operators or their NDT contractors as an alternative to spark OES testing or off-site laboratory results. There are hundreds of SciAps LIBS units in the field for pipeline analysis. Included with the analyzer is a recommended testing procedure that incorporates sample preparation and certified reference materials for quality assurance validation.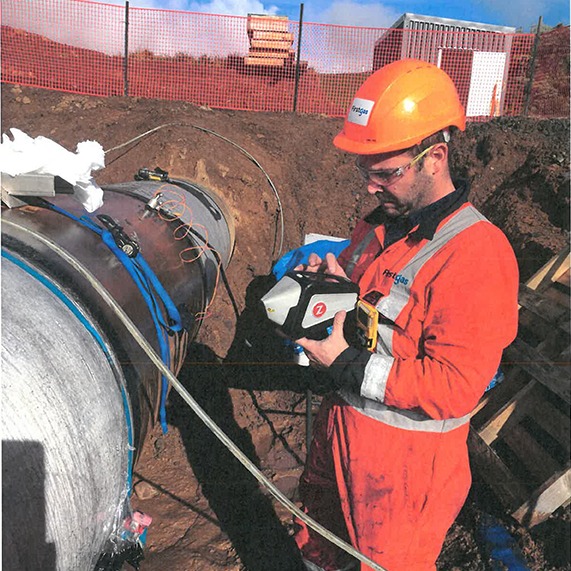 The instrument features include an internal camera for precise targeting of analysis locations, especially welds; a macro camera for photo-documentation of samples, reading barcodes and QR codes; a patented "sample sensor" that allows Class 1 operation (subject to LSO approval); intuitive Android operating system and app-based software; high-resolution, rear-facing display for easy results viewing; rugged metal body for maximum durability; a tapered, narrow snout for welds or difficult-to-access test locations; full-featured report generation and cloud data management; and user-replaceable argon that provides hundreds of tests at pennies per test.
SciAps is a rapidly growing company specializing in handheld analytical instruments. State-of-the-art handheld LIBS analyzers for alloys address carbon in steels and stainless, environmental, mining and general analytical applications, specifically those that require measurement of low atomic number elements not measurable by handheld XRF. Complementing the new LIBS analyzers is the new SciAps XRF series featuring the X-550, the smallest, lightest weight and highest performing handheld XRF ever created.
First Gas, New Zealand's largest gas network, maintains over 2500km of high-pressure gas transmission pipeline and 4800km of gas distribution pipeline that provide natural gas supplies throughout the North Island. One way they have increased "efficiency and economic gains with repairs" is by using SciAps handheld LIBS since 2018. See why First Gas finds LIBS ideal for PMI, CE, and pipeline maintenance.