Offshore wind represents a key renewable energy source to meet the Europe's carbon neutrality target and help tackle climate change. The pace of development for new wind farms is accelerating, with deeper water installations being increasingly sought to unlock the full market potential of European waters.

For these deeper water installations, foundation structures are moving away from traditional monopiles towards jacket-type lattices, with designs adapted from the oil and gas industry. These structures contain many more welded joints than monopiles, with over 1km of total weld length per jacket. The quality of the welds is critical to ensure the long-term integrity of the structure, particularly given its harsh, underwater service environment with complex fatigue loading conditions.

Welding Inspection and NDT

Innerspec is a manufacturer of Non-Destructive Testing solutions and uses mainly their own proprietary technology. Their products include integrated systems for manufacturing plants, and portable solutions for in-service applications. Innerspec pioneered commercial applications of Electro Magnetic Acoustic Transducers (EMAT) in the mid-90s becoming the world leader in this technology with hundreds of systems installed worldwide. More recently, Innerspec has added other techniques to their portfolio to serve their customers with all their advanced non-destructive testing needs. Amongst other things, Innerspec invested in two Go!SCAN 3D scanners and the pipeline integrity software Pipecheck from Creaform, a NDT 3D scanning technology solutions for corrosion and mechanical damage.
Recently, Innerpsec worked on a project which objective was to provide quality control (QC) after welding fabrication of offshore wind jackets. To do so, quality control was defined as welding inspection tasks. NDT methods were required to ensure that welding processes have been executed accordingly, and that the NDT inspections provided by a subcontractor was accurate. For this project, Innerspec provided experienced personnel qualified in Welding Inspection and NDT.

According to engineers, conducting an analysis requires that it is possible to identify what kind of defects the company is dealing with and also the scale of the problem in the studied period of time.

Main activities and project steps:

Design and pre-qualification of calibration blocks in conjunction with SPR personnel
Develop NDT procedures in Phased Array Ultrasonic, ToFD, ACFM and visual inspection using the Creaform 3D NDT technology.
Phased Array Ultrasonic NDT inspection crosscheck and witness/train/consult other parties on PAUT execution.
Time of Flight Diffraction NDT inspection crosscheck and witness/train/consult other parties on ToFD execution.
ACFM/ECA NDT inspection crosscheck and comparison results with subcontractor penetrant testing or magnetic testing results.
Geometrical and dimensional assessment with Creaform 3D scanner and Pipecheck software (Visual Welding Inspection).
Full daily reports on weldments tested (it includes progress report according to initial planning or expected percentage for crosschecking).
Weekly dashboards showing defect rates per weld type, weld process, workshop, and welder.
Fortnightly report on project analysis with proposals, conclusions, and recommendations to tackle any process issues are expected.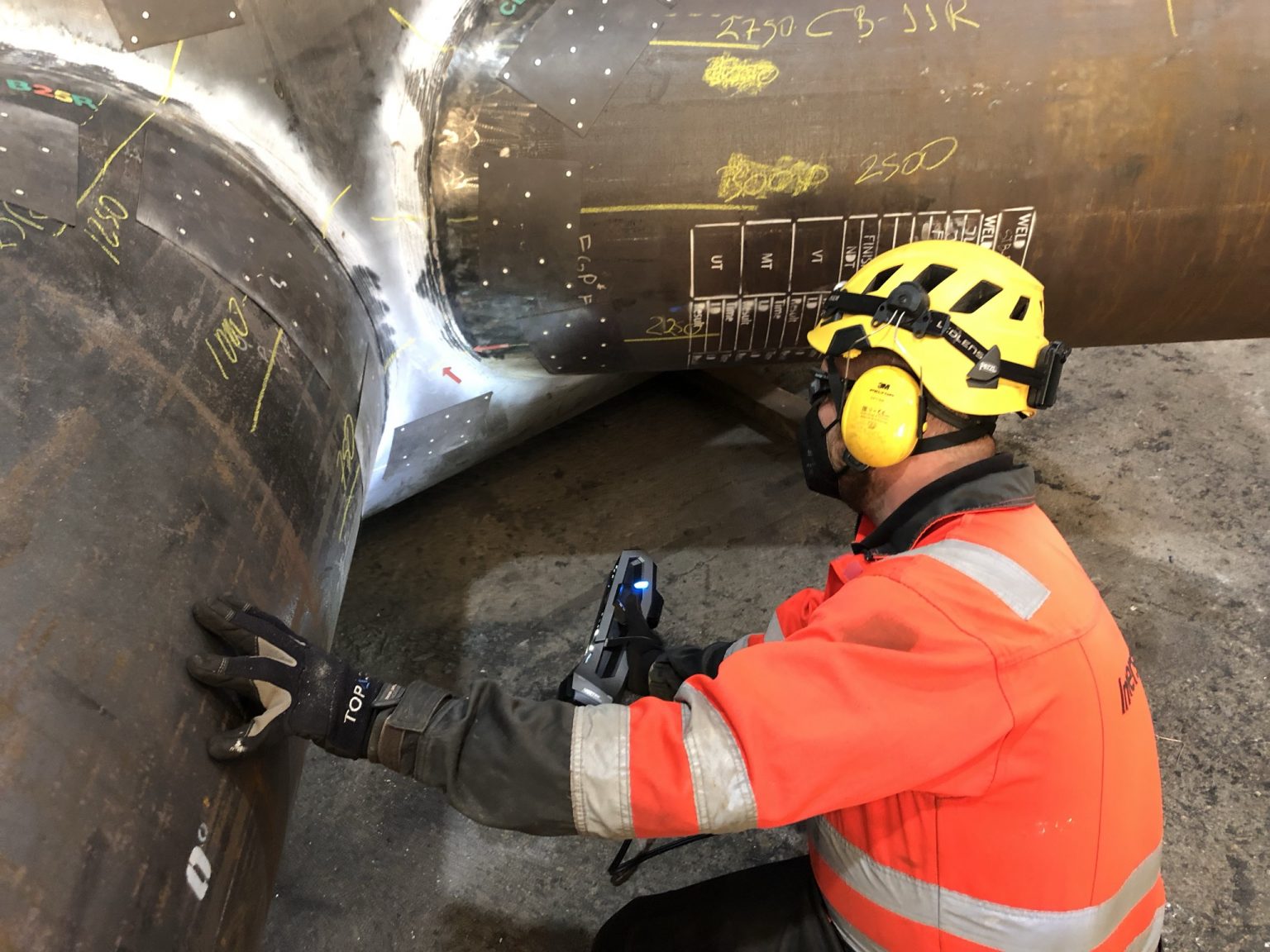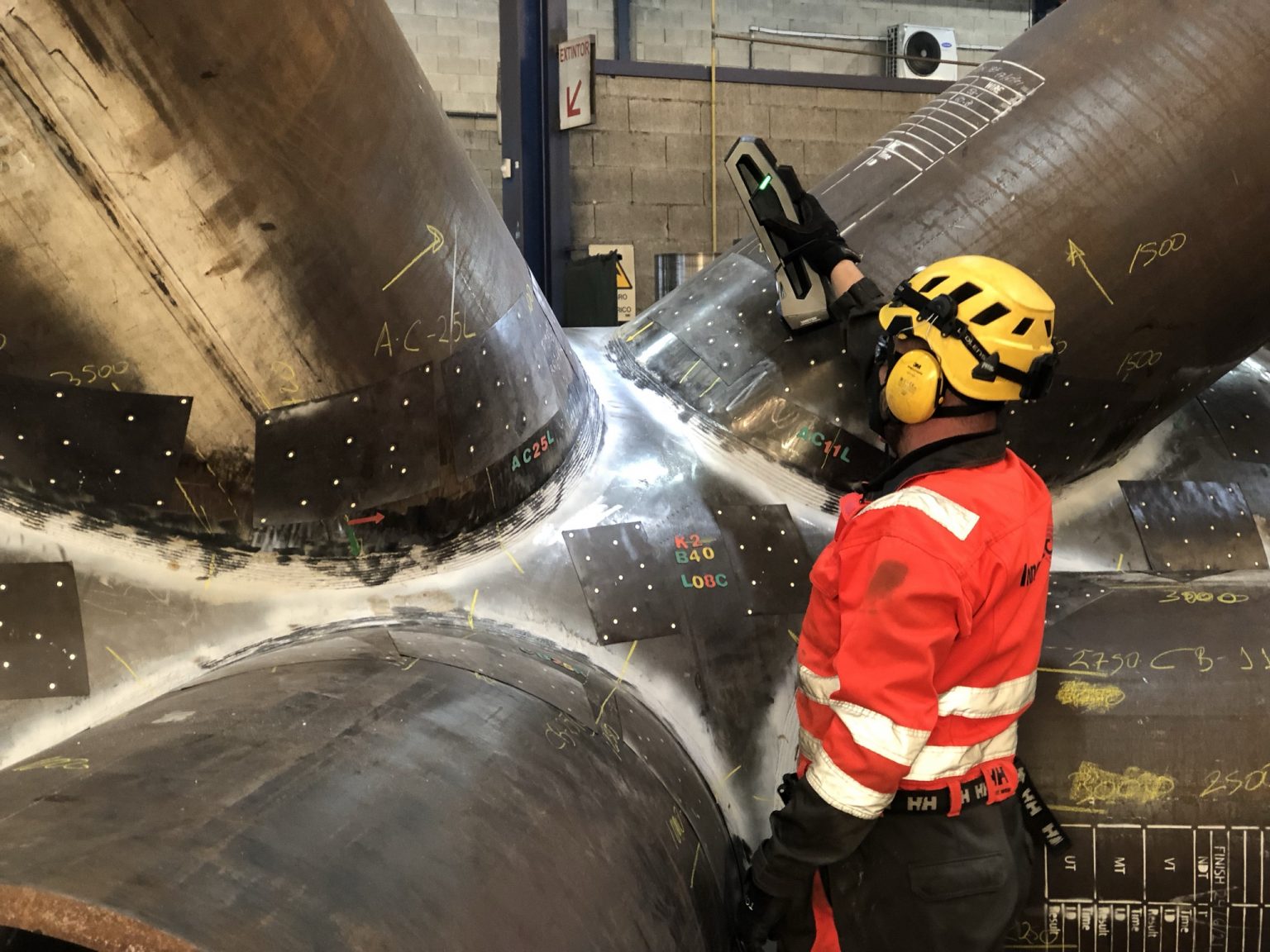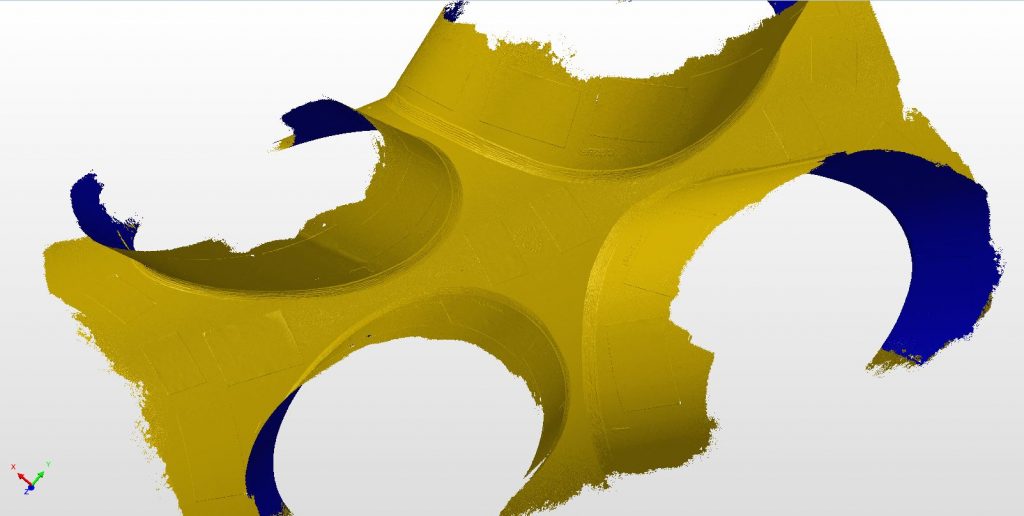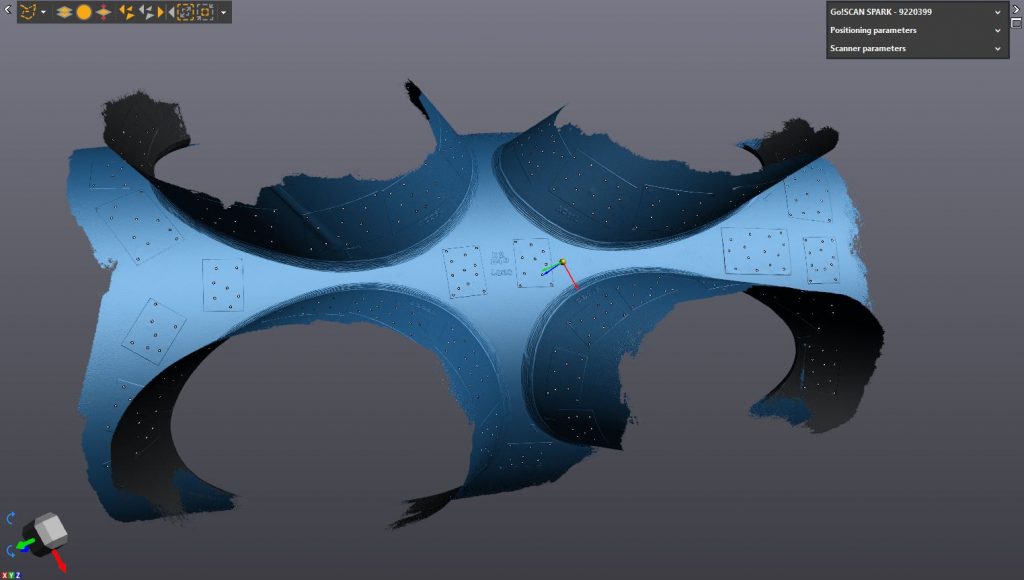 Benefits of advanced NDT technologies
Prior of using the Creaform NDT technology, Innerspec was using for visual welding inspection, welding gauges and photo cameras. For surface breaking flaws, conventional NDT methods were used as magnetic particle and liquid penetrant. The main problem was that these methodologies don't provide accuracy. They are too human error dependent and do not provide digital footprint for further analysis by third party engineers. With them, NDT inspection is quality compromised and if quality needs to be critical productivity is very low, hence, too expensive.
By applying advanced NDT techniques and technology, like Creaform is providing, productivity can be improved significantly, and the data can be used for further purposes such as Finite Element Analysis (FEA) and/or fracture mechanics calculations. The accuracy cannot be matched with conventional NDT techniques during normal inspection. When applied correctly by trained staff, it has been proved that productivity is five times higher, and cost can be cut by minimum of 40%. Hence, a competitive advantage is created, and the company builds a market moat.

The Creaform technology was especially for the above-described project a perfect fit. It's proved to be unmatchable when providing welding angle, weld measurements and pipe dimensionality. Thanks to its use, Innerspec been able to provide extra data even when the welding items are not available anymore as when it is already placed subsea. It allows us to create a baseline for further inspections to compare degradation or damage mechanisms.

How did the Creaform NDT technologies affect, change, or improve the practices and processes at Innerspec?

Welding engineers have increased their productivity and they have enhanced their quality reporting. They are less exposed to site hazards and, hence, production facilities can carry out their business with no delays produced by inspection. No delays have been reported to client due to their presence and applying the advanced NDT methods.
Main customers have found that the availability of the inspection results is basically immediate regardless of where they are based. This is due to the fact that all reports and files obtained are uploaded to servers where results can be check at the same time by them and our engineers. Also, the fact that the scans are so realistic, everybody can understand easily written reports just by reviewing the data.


ARTICLE WRITTEN BY Creaform
Source: https://www.creaform3d.com/blog/welding-inspection-and-non-destructive-testing-of-offshore-wind-jackets/