Considered the heart of the aircraft, the engine provides power to the entire airplane. Just like we need to care for our own heart with regular checkups, inspectors must regularly assess and maintain aircraft engines to help keep planes flying safely.
As part of a routine inspection process, inspectors observe the conditions inside the aircraft engine by inserting an industrial videoscope inside it—without having to disassemble or damage it. Through meticulous and thorough inspection, hidden problems inside the engine can be discovered early. These discoveries provide a key justification for the technical crew to perform preventive maintenance and avoid unsafe events.
The Advantages of Using Industrial Videoscopes for Aircraft Engine Inspection
Industrial videoscopes can extend the inspectors' range of vision through unique features. For instance, some models enable inspectors to change the viewing direction freely. This helps them properly observe the internal surface condition of an object, such as an aircraft engine
Many airline inspectors today benefit from this modern, intelligent technology. We recently interviewed a supervisor in charge of remote visual inspections at China Southern Airlines to learn how he uses the technology.
Every week, the RVI supervisor at the airline needs to inspect aircraft engines, blades, and other parts using videoscopes to help ensure the aircraft's flight safety. The airline inspection equipment includes two Olympus IPLEX™ NX videoscopes, two IPLEX GX videoscopes, and three IPLEX FX videoscopes.
Here are some of his favorite features:
1. High-quality imaging
The RVI supervisor spoke highly of the imaging on the videoscopes. Both IPLEX GX and NX videoscopes have a large touch screen and use Olympus' proprietary image-processing technology to provide clearer images with less noise.
The screen brightness also automatically adjusts for excellent visibility, even in bright light. With these features, the IPLEX series videoscopes provide clear, bright imaging to help reduce inspection time and increase efficiency.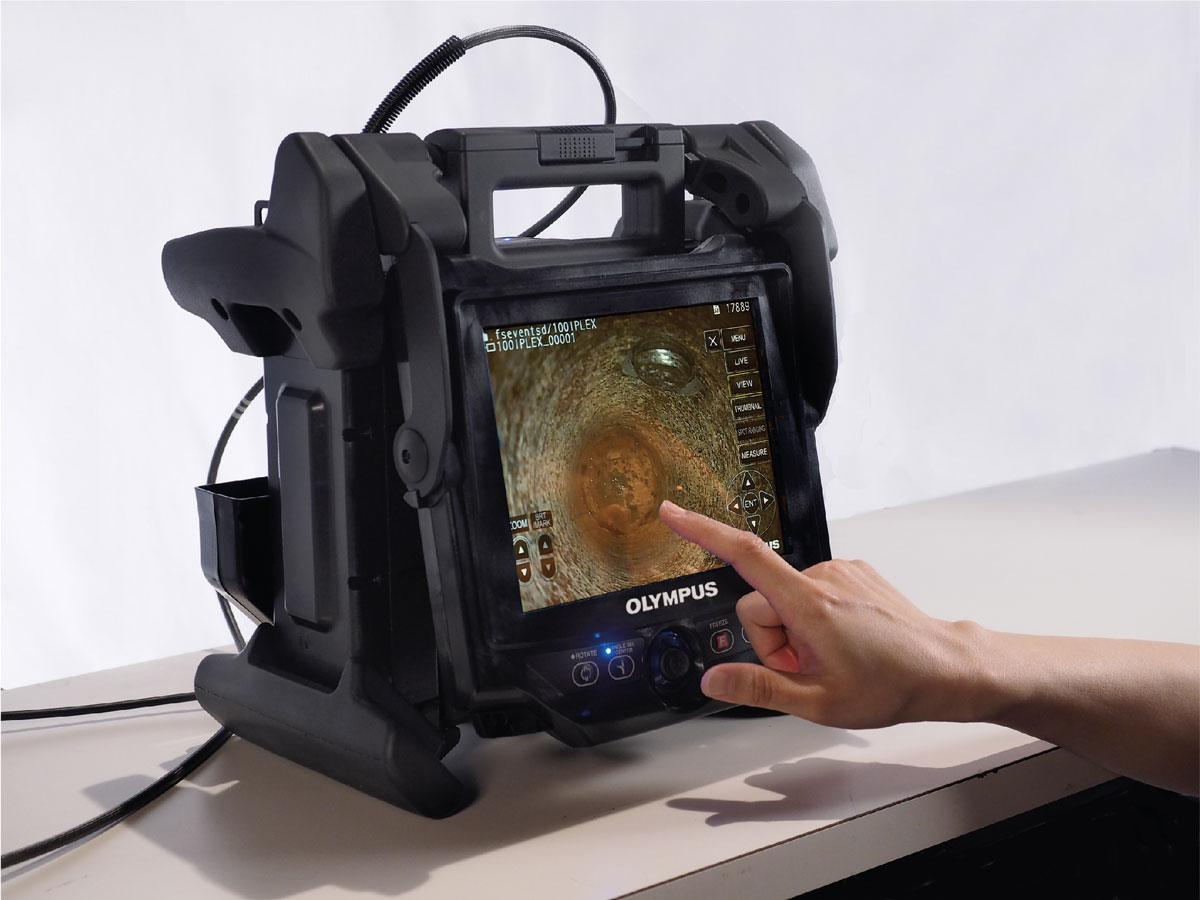 IPLEX videoscopes are known for their high-quality images
2. Comfortable operation
The RVI supervisor also noted that IPLEX industrial videoscopes are easy to use and handle during daily operations. Even after a long period of use, they don't cause excessive fatigue in inspectors' hands.
The comfortable operation is due to the innovative design of the insertion tube with joystick control. The scope tip on IPLEX GX and NX videoscopes features responsive TrueFeel™ articulation, enabling you to guide and control the scope's orientation with a touch of the joystick. This nimble design and easy maneuverability help alleviate finger stress and fatigue in a long inspection.
Fast, responsive scope tip articulation helps operators stay comfortable during aircraft inspections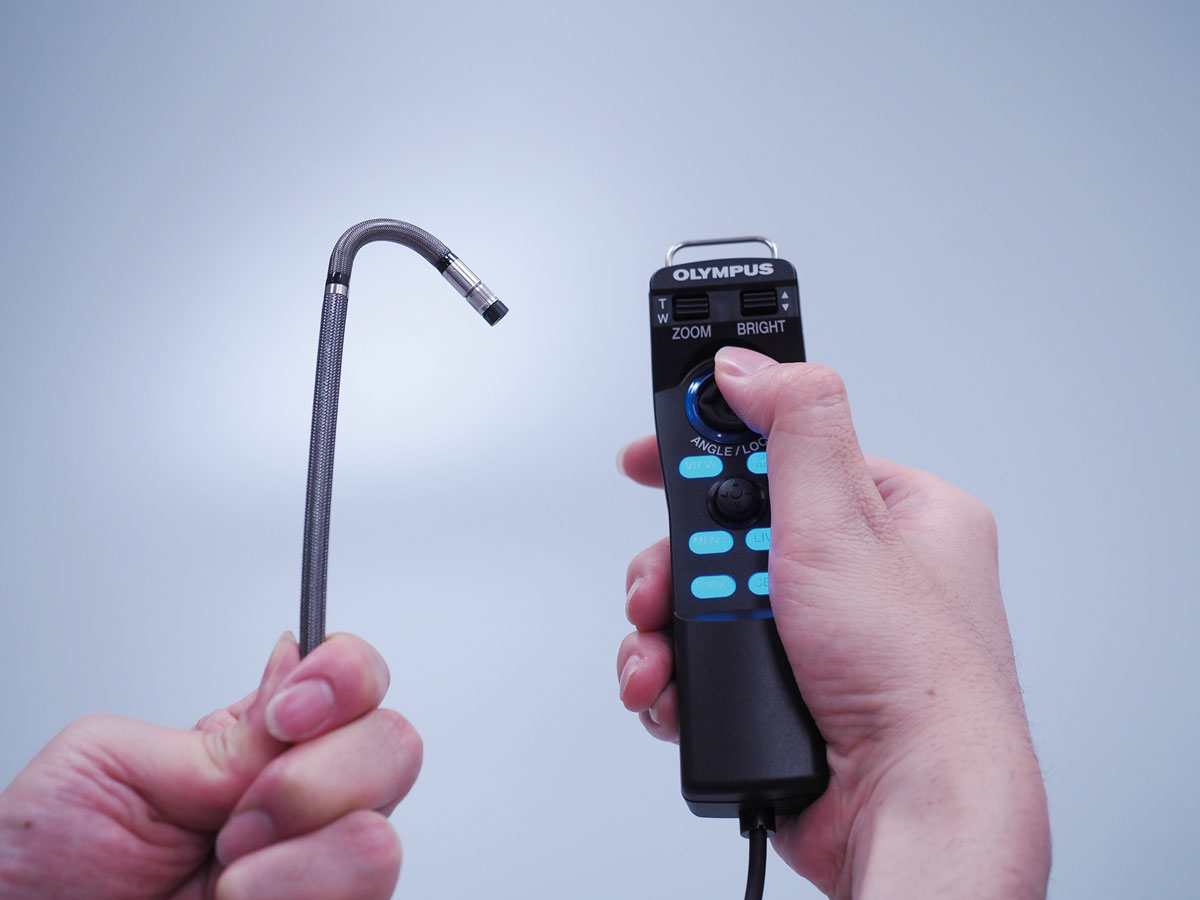 Fast, responsive scope tip articulation helps operators stay comfortable during aircraft inspections

3. Durable design
The RVI supervisor also praised the IPLEX videoscopes' excellent durability. The high temperatures and pressure in an aircraft engine can put significant strain on inspection equipment.
However, IPLEX industrial videoscopes can handle these tough environments thanks to rugged design features:
Main unit is sealed with industrial-grade rubber material to provide maximum airtight and watertight protection to the electrical components inside
Designed to meet IP standards for dust and water resistance: IP65 for IPLEX GX/GT and G Lite videoscopes and IP55 for IPLEX NX videoscopes
Built to meet the US Department of Defense testing (MIL-STD) standards to protect against a range of environmental hazards, including drops of up to 1.2 meters (4 ft)
Made of five layers of tungsten braid, the scope's outer braid is built to last; during testing conducted by Olympus, the outer braid resisted more than 100,000 instances of wear and tear
Scope is water and oil resistant for use in a range of harsh environments

IPLEX industrial videoscopes offer watertight protection to the inner electrical components
4. After-sales support
Our comprehensive, high-quality after-sales support is an important reason many aviation companies choose Olympus videoscopes. We have a global infrastructure of maintenance and repair centers to provide a rapid response time for our customers. In the case of this Chinese airline, the local Olympus-accredited service center in Shanghai can complete repair work within 1–2 days, so the company can get their equipment back quickly and stay productive.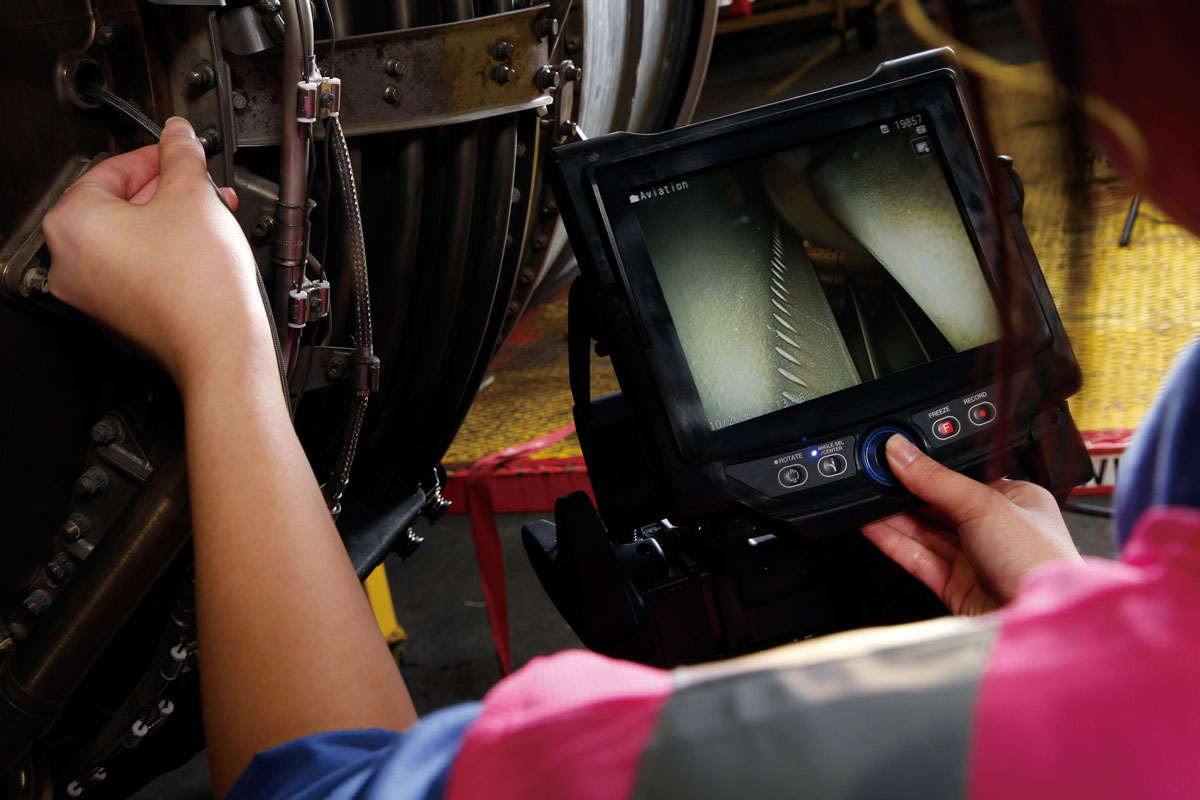 Bringing It In for a Landing on Aircraft Engine Maintenance
Inspecting aircraft engines with industrial videoscopes has become a common nondestructive testing (NDT) application. In fact, it is often used in regular monitoring and maintenance of aircraft engines to detect damage and assess engines' overall performance and health in a timely manner.
IPLEX industrial videoscopes provide high-quality images for inspection as well as easy operation, convenience, and readiness for harsh environments. Many leading airlines today rely on these industrial videoscopes to keep planes flying safely.