Blog by: Craig Senych
Eddyfi Technologies' Center of Excellence for Robotics has a long history of providing remotely operated robotic crawlers in some of the harshest environments in the world, and the power generation sector is no exception. This article recalls how our technology was implemented for Fukushima Daiichi Nuclear Power Station's remediation efforts and introduces our NDT enabled robotics as a standard product offering benefiting the nuclear sector and beyond.
When the Tōhoku earthquake and tsunami hit ten years ago, the Fukushima Daiichi nuclear disaster became the most severe nuclear accident following Chernobyl. Many key players sought a method to inspect the damage within the three compromised reactors, and our multi-mission modular technology was employed as part of the solution.

In 2015, Tokyo Electric Power Co. engineers created a custom snake-like inspection crawler designed specifically to navigate the complex interior of the reactors. Equipped with a series of Eddyfi Technologies stainless steel Microtrac™ components, the remotely driven robot was intended to slither through a 100-millimeter (4-inch) pipe, then dangle itself and descend on to a platform just below the reactor core's bottom.

There, it would send back valuable information such as live images (it was equipped with a lighting system and high-definition camera), temperatures, and radiation levels from within the reactor and transmit them to workers located in a safe control room. The information gathered would allow workers to repair the damaged reactors so they could be filled with water to safely remove radioactive debris. It was expected to be another five years to complete the work in all three reactors, and different crawler designs were required for each of the three reactors that required remediation.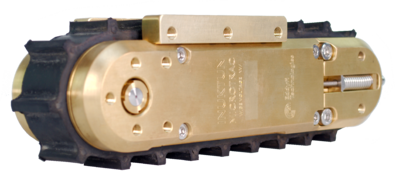 Eddyfi Technologies Microtrac transporter units are designed to operate in extremely harsh and, as in this case, radioactive environments, which made them the clear choice to assist at Fukushima. Hitachi's robot, based on these Microtracs, entered the pipe in a linear shape and then "morphed" into a U shape creating a traditional, steerable system.
We are proud to have supplied components for the robots used in the remediation taking place at Fukushima. Our remote inspection crawlers are designed to operate in confined, harsh, and dangerous environments, and in places where humans simply can't or shouldn't work. Using these systems to assess the reactor damage was a pivotal early step in decommissioning the plant.

Check out this video (also below) by Tokyo Electric Power Co. (TEPCO) featuring their robot crawling inside the nuclear reactor vessel at Fukushima. The vehicle travelled through a 100-millimeter (4-inch) diameter pipe and drove near the pedestal that supports the reactor vessel. News broke with results of the inspection: they aborted the examination due to camera damage attributed to higher-than-expected radiation levels but were able to confirm that radiation was not leaking outside the reactor, despite the dangerously high figures. Once the robot completed its mission, it was stored permanently in a special radioactive-proof box. The project was a joint effort between the International Research Institute for Nuclear Decommissioning with financial assistance from the Japanese government, and support from Hitachi GE Nuclear Energy and Revast Corp.

Both Hitachi and Toshiba designed new robots to overcome the environmental challenges surrounding radiation levels and navigation problems in these areas. The project led by Toshiba and developed under IRID (International Research Institute for Nuclear Decommissioning) – a group that targets the expansion of fundamental technology for retrieval of fuel debris and reactor internals – called on Eddyfi Technologies to provide a specialized miniature crawler to be mobilized to deliver high radiation video and lighting systems into the pedestal area under one of the reactors. IRID published an article on the full-scale testing of technology for repairing the Primary Containment Vessel (PCV) leakage points and strengthening technology for suppression chamber support columns. Check out Toshiba's press release including a short movie (also below) demonstrating the system capability here.

The standard NanoMag™ was originally designed to visually inspect the top and bottom of PWR nuclear reactors, but it was marginally too large to fit through the guide pipe being used to access the pedestal area. Instead, we were able to modify the crawler – making it much narrower – so it could operate in the 100-millimeter (4-inch) pipe and still maintain its ability to steer. Toshiba acquired the custom robotic crawler and integrated their own specialized imaging and control systems.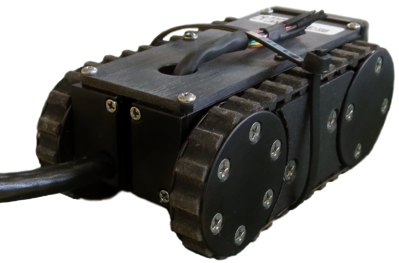 A report was published in the December 2016 issue of OPTRONICS magazine on the development status of the remote devices used for the survey. Remote visual inspection confirmed that in addition to the dark environment and high radiation levels, steam was also prevalent – greatly reducing visibility. The report describes how Toshiba was unable to install high intensity lighting on the crawler due to size restrictions, but instead developed a mechanism to separate the camera and lighting to prevent halation: light scattering into the steam. Engineers continue to research how to fully quantify the condition of the pedestal.

The project described above targets the expansion of fundamental technology for the retrieval of fuel debris and reactor internals. The modified NanoMag based robotic system was one of many new technologies developed to assist with the remediation at Fukushima Daiichi Nuclear Power Station. You can catch a glimpse of Eddyfi Technologies crawler tracks on the robotic systems deployed by Hitachi and Toshiba in a documentary available on Amazon Prime called Fukushima: Robots in Hell. The documentary draws upon hundreds of hours of footage filmed by robots, allowing viewers a firsthand look inside the Fukushima power plant's nuclear reactors to provide a better understanding of what went wrong after the earthquake and tsunami on March 11, 2011. Best of all - you can see how to fix it.

Our modular robotic components are designed for the toughest conditions in some of the harshest environments imaginable - and this scenario demonstrates that perfectly. While historically our robotic solutions were focused on remote visual inspection, we've expanded our standard offering to include ultrasonic testing and alternating current field measurement enabled robots. Discover the Magg™ R-Scan and Magg™ ACFM® crawlers here.

Whether performing preventative inspection and maintenance or responding to an emergency situation, Eddyfi Technologies mobile robots are trusted by the industry for repeatable, actionable, meaningful, and preventative results. Contact our robotics experts today to discuss your next inspection challenge!
Source: The Role of Robotics for Nuclear Remediation (eddyfi.com)