Cygnus Instruments are renowned worldwide as masters of robust, user-friendly ultrasonic testing equipment. Their first-class subsea range is designed to perform quick, efficient routine maintenance surveys on subsea structures and equipment, from offshore rigs, UWILD and IWS class surveys, to caissons, canal locks and pipelines.
A resounding success nearly 40 years strong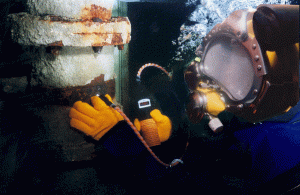 It's hard to believe Cygnus Underwater – one of the first products Cygnus brought to the market nearly 4 decades ago, remains the top choice of many divers. This is a testament to the outstanding original design in response to divers' essential requirements for a rugged, reliable ultrasonic testing instrument that performed accurate subsea surveys under hostile conditions. This original diver-held subsea Multiple-Echo ultrasonic thickness gauge is still the industry standard.
Despite this, Cygnus has adapted to inevitable advances in offshore inspection, most notably by facilitating the advantages of using two hands in challenging underwater conditions.
By introducing Cygnus Dive – a robust, wrist-mountable, multi-mode unit, Cygnus provided divers with an invaluable free hand to perform ultrasonic thickness measurement (UTM) underwater. The large, bright display with Live A-scan, ideal for heavy corrosion, is easily viewable to both diver and camera – even in poor visibility. Automatic data-logging, Topside repeater and HelmetView™ options are also a plus!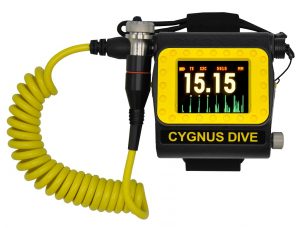 Dive goes from strength to strength, proving invaluable to new challenges facing the industry
Cygnus Dive promised to aid divers in as many situations as possible and has proved successful with an important role in the industry's biggest effort to minimise our environmental impact and provide cleaner air.
Since the 'IMO 2020' 0.5% Sulphur emission cap, initiated by the International Maritime Organisation (IMO), was enforced on all ships worldwide in January 2020, ship hulls have suffered a worrying level of corrosion. This is caused by corrosive wash water discharged from scrubbers, which have been installed on nearly 4,000 ships globally as a means to meet the cap.
Consequently, classification societies like DNV-GL now require wall thickness measurement for the SOx Scrubber overboard distance piece in annual class surveys, to ensure regular preventative scrubber structural integrity maintenance. Ultrasonic testing is simple, inexpensive and reliable for achieving this, but where does Cygnus Dive come in?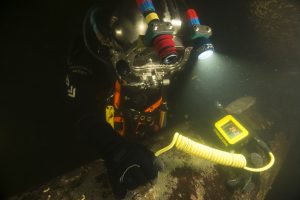 Often, instead of dry-docking, marine vessels are inspected in operation. These Underwater Inspection In-Lieu of Drydocking (UWILD) surveys reduce downtime, travel time and cost, and are generally performed by divers. Many choose Cygnus Dive thanks to its usability and impressive functionalities. With such capability and versatility, it's exciting to imagine what it could achieve in the future!