Beware of So-Called Freeware
When it comes to some companies offering freeware, "free" sometimes translates to "hidden costs." But this isn't the case with our OmniPC™ 5 analysis software. OmniPC 5 software:
Is free to download and use.
Has free updates.
Has no subscription or renewal payments.
Requires no product or HASP key to install. Simply download the software from the Olympus IMS website. See the system requirements here.
That's it—no fine print.
OmniPC software is a practical tool that enables NDT inspectors and their customers, such as asset owners and operators, to review and analyze inspection data without having to pay for a licence or download a second data viewer with limited features.
Complimentary Complementary Software for the OmniScan™ Series
OmniPC software is Olympus' complimentary companion software for the OmniScan™ series, including the OmniScan X3 phased array flaw detector. OmniPC 5 software enables inspectors who use OmniScan X3 flaw detectors to perform efficient post-inspection data analysis and reporting on a PC or laptop.
Because OmniPC 5 software's user interface and analysis and reporting features resemble the OmniScan X3 flaw detector's on-board software, transitioning from one to the other is easy. There's no need to learn how to use a new software for the analysis of your OmniScan data files.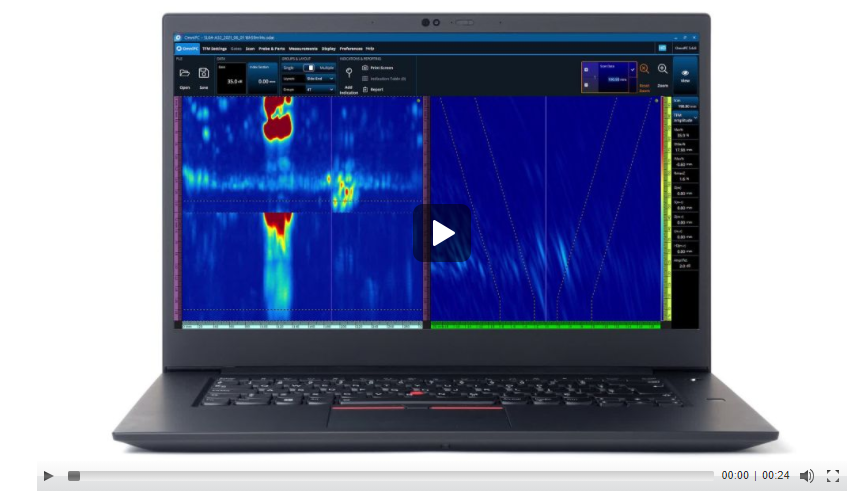 Watch this tutorial video to see the main features and functions of OmniPC software.

A Flexible, User-Friendly, and Practical Analysis Software
OmniPC 5 software is optimized for UT (ultrasonic testing), PA (phased array), TOFD (time-of-flight diffraction), and TFM (total focusing method) data analysis. Its user-friendly features include convenient shortcuts, the flexibility to use different methods, and the ability to open multiple sessions on one computer.
Featuring OmniScan Users' Favorite Tools
OmniPC 5 software comes equipped with some of OmniScan flaw detector user's favorite analysis tools, including:
Standard post-process corrections (gain, Auto 80%, index and scan offsets, and gate editing)
Basic reporting and indication table
Basic analysis tools (linked cursors, TOFD calibration, multiple window capability, and keyboard mouse shortcuts)
Views and layouts optimized for weld, corrosion, single group, and multigroup inspections
Open Multiple OmniPC 5 Sessions Simultaneously
To ease comparison of inspection data, you can open multiple distinct data files and display them side by side for increased efficiency.
OmniPC 5 also has tools to correct any oversights made during acquisition. The gain, skew, scan offset, and index offset parameters can be changed during post-inspection analysis to improve data accuracy and avoid reacquisition.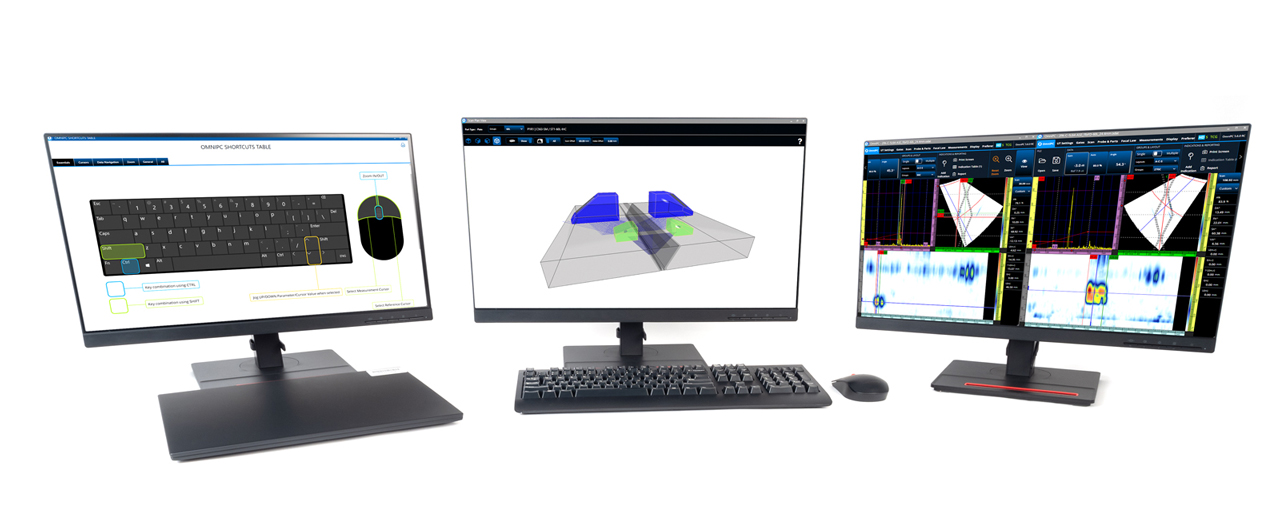 Convenient shortcuts, scanning configuration corrections, and side-by-side data file comparison
Free Sample Inspection Data
Did you know that sample inspection data files compatible with OmniPC 5 software are also available for free download? There are three simple steps:
Click this Olympus website link.
Download a sample data file.
And use!
These sample data files are ideal for trainers or for inspectors who would like to refresh their PAUT, TOFD, or TFM analysis skills.
Constantly Evolving
At Olympus, one of our main concerns is offering our customers tools that meet their evolving needs. Even though OmniPC 5 software is free for download, it is not frozen in time. Stay tuned for future OmniPC applications and features and sign up for our newsletter to know when a new version is available.
Source: https://www.olympus-ims.com/it/insight/omnipc-freeware/