The Olympus DSX1000 digital microscope has earned a reputation for exceptional image quality and ease of use. New DSX1000 software adds powerful measurement capabilities and usability upgrades to the digital microscope, making it a faster, more comprehensive inspection solution.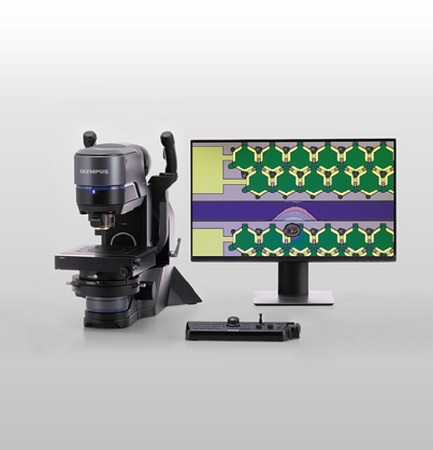 Complex Measurements Made Easy
The DSX1000 digital microscope offers a series of simple-to-use advanced measurement functions that make the system even more powerful. Automatic edge detection is available on in-plane and profile measurements, enabling users to more easily measure features and defects during QA/QC inspections. Other new functions include measuring the difference between two data points, analysis templates that enable users to automate analysis tasks, stitched images with a wider field of view and higher resolution and time-lapse imaging. When the analysis is complete, the new software enables users to export data to third-party software, such as CAD programs as well as display the measurement results with image and surface profile data in custom reports tailored to the application.
Faster Analyses
To help inspectors complete their work more quickly, the new DSX1000 software includes enhanced usability features that improve inspection efficiency. When changing objectives, the software prompts users to select their new lens. The microscope then automatically changes focus position so that the user can immediately get back to work rather than wasting time readjusting the focus.
To keep from getting lost when viewing samples, the new macro map uses a stitched image captured in panorama mode to clearly display the observation location on the sample. Image acquisition is also simpler—to acquire a 3D image, the user simply defines the scanning range based on the height of their sample, and the microscope does the rest.
For more information about the DSX1000 digital microscope, visit www.olympus-ims.com/en/microscope/dsx/
About Olympus
Olympus is passionate about the solutions it creates for the medical, life sciences and industrial equipment industries. For more than 100 years, Olympus has focused on making people's lives healthier, safer and more fulfilling by helping detect, prevent, and treat disease, furthering scientific research, ensuring public safety and capturing images of the world.
Olympus' Industrial Solutions range from industrial microscopes and videoscopes to nondestructive testing technology and X-ray analyzers. These products are widely used for quality control, inspection, and measurement applications. Serving customers in fields such as manufacturing, maintenance and environment and natural resources, Olympus technology contributes to the quality of products and adds to the safety of industrial infrastructure and facilities. For more information, visit www.olympus-ims.com.
Olympus…True to You. True to Society. True to LIFE.
Olympus and the Olympus logo are trademarks of Olympus Corporation or its subsidiaries.
MEDIA CONTACT

Hilary Banda
781-419-3624
Hilary.Banda@olympus.com