With Capture™ 3.2, the M2M Gekko® and Mantis™ portable flaw detectors benefit from a software update purposely designed to keep these tools ahead of the curve, providing added value to our consumers, and keeping you ahead of the competition. From the multigroup TFM method to advanced scan plans and analysis features, Capture 3.2 brings innovative tools that help inspectors improve productivity and sensitivity. This article takes a closer look at how Eddyfi Technologies has kept its promise to continuously improve its offering to make your inspections easier.
Designed for all levels of technicians, Capture has earned its reputation as the user-friendly, complete software platform designed for all Ultrasonic Testing (UT), Phased Array UT (PAUT), Time-of-Flight Diffraction (TOFD), Total Focusing Method (TFM) and Adaptive TFM procedures (ATFM). With intuitive calibration wizards that require a mere three clicks to complete, Capture software enables phased array inspectors to improve their knowledge without extensive training.
When it comes to software updates, Eddyfi Technologies brings forward the right balance of new tools and features requested by customers while improving ergonomics to increase productivity and probability of detection. Capture 3.2 truly offers the right mix of all of this.
New Tools
With the release of its 3.2 version, we have added multiprobe/multigroup and multimode capabilities to the TFM technique. It is now possible to perform weld inspection using one probe, up to 64 elements, on each side of the weld combining up to four modes simultaneously. The envelope is now available allowing operators to use less pixels for the same image quality thus improving productivity. Combining this with a speed improvement up to 60% for TFM images with less than 94 kpixels, it is possible to perform multigroup weld inspection with scanning speeds higher than 100 millimeters (4 inches) per second. The Mantis also goes from one group with a maximum of 65 kpixels to four groups each with 94 kpixels.
The second big development is the advanced scan plan for PAUT, TFM, TOFD and conventional UT. Capture 3.2 brings:
Angles between bevels and incident angles
Incident angles
Near field information
Beam spread for TOFD and UT
Offsets, PCS, thickness, element number
Enhanced 2D/3D view display
Live information display
This makes the definition of scan plans for all techniques a lot quicker.
Another major tool released with Capture 3.2 is auto-sizing for corrosion. Capture can automatically detect corroded indications within an area corresponding to criteria (remaining thickness, etc.) defined by the operator and create a table of indications fully customizable by the operator. Capture 3.2 also enables merging indications. This allows characterization of large areas within seconds, improving productivity significantly. It takes about 30 seconds to obtain the full table of indications with all the parameters of the corroded areas making the analysis quick while powerful.
Features Requested by Customers
Besides the innovative features, we also deliver more traditional tools requested by our customers. We understand that people have their way of working and that we need to match those ways.
The trajectory management has been completely revised to allow operators to change the start and finish positions of their probe, offset positions along the scan and index axis, and encoder polarity right from the acquisition panel without having to return to the configuration panels.
All 2D views (C-scan, S-scan, T-scan, D-scan, etc.) now have video smoothing or filtering making these images a lot nicer.
While our Time Corrected Gain (TCG) is powerful and allows perfect compensation for all angles and depth, we have added a more traditional sensitivity calibration, based on depth or radius, to allow operators to compensate sensitivity across all angles. The operator can select as many delay laws as he wants, and the wizard will record the amplitude value of the selected focal laws and make a linear interpolation for the remaining laws.
Despite having no file size limitation, the data file size has been optimized by selecting the proper data compression to make files as small as possible without losing any information.
TOFD tools have also been improved by allowing operators to re-do their wedge delay calibration and lateral wave straightening separately after acquisition, adding zero crossing or cursors to the list of measurement types.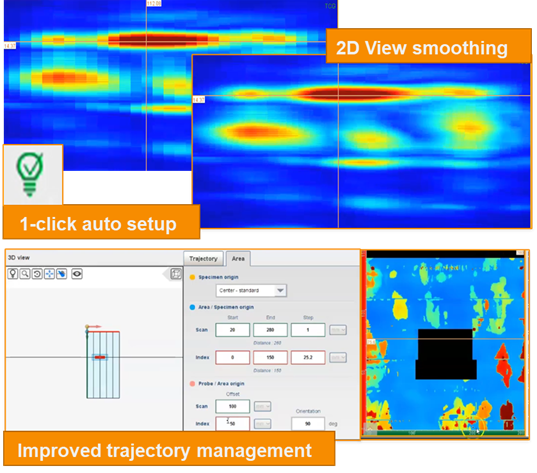 Ergonomics
The biggest development for the ergonomics is the View toolbar. Options including zoom, cursors, rebounds, and color palette for all the views were previously available by clicking on a small icon at the bottom of each view (sometimes making it difficult for people in the field with large fingers). All these options are now summarized within one bar at the bottom of the screen with larger and more readable icons to make it a lot easier to select the proper options.
The full screen option now keeps the banner of indicators at the top and options at the bottom of the screen visible to allow operators to perform measurements and analysis with a full screen view.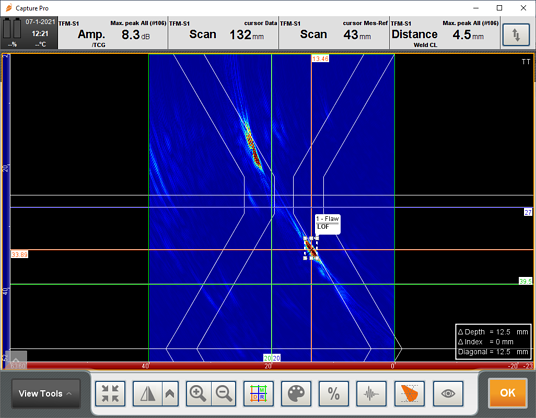 Auto-setup is available for a lot of parameters with Capture automatically setting up some parameters based on the operator's choice. For example, sampling frequency is adjusted automatically based on the probe frequency to minimize file size. The same button can automatically adjust the zoom of the 3D view to contain the part, probe, and scans based on the ultrasonic delay and range.
Battery and internal temperature information have been added to let operators know about the operating conditions of their equipment.
Version updates and error reporting can now be done directly from the equipment. Customers are informed when a new version is available, and it can be downloaded directly on the machine. Error reporting can be sent directly to our software development team for quicker correction.
Here is the complete list of features added to Capture 3.2.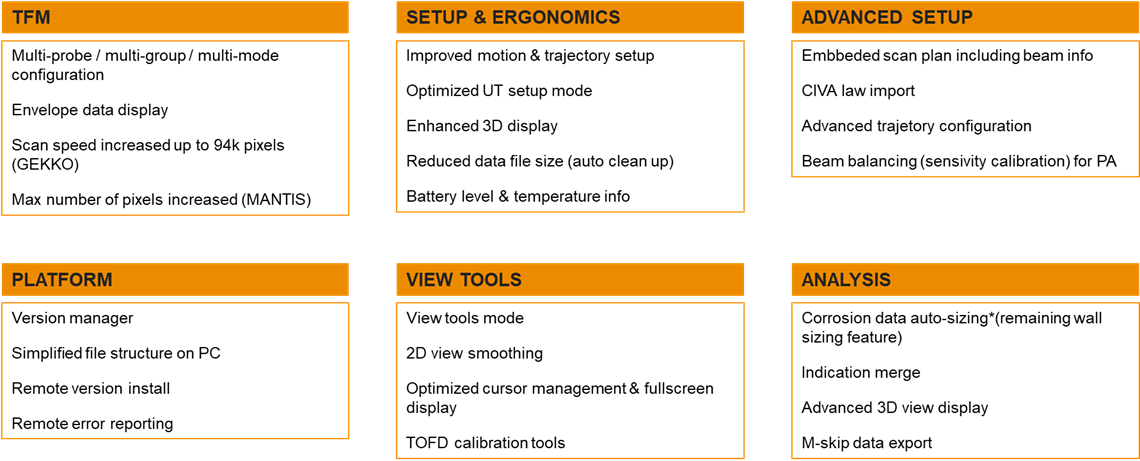 Eddyfi Technologies offers two to three major software updates a year – an industry differentiator. The Capture roadmap includes more features for PAUT and TFM, new analysis tools but also improved ergonomics to make sure that people can transition easily from any PAUT systems to our M2M Gekko® and Mantis™. We are committed to delivering the most advanced solutions for today but more importantly, tomorrow.
For more information on Capture software and our advanced PAUT and TFM offering, contact our experts today!
source: https://blog.eddyfi.com/en/keeping-customers-beyond-current-with-capture-software-3.2?utm_campaign=Blog&utm_content=173471251&utm_medium=social&utm_source=linkedin&hss_channel=lcp-842125