Cygnus Underwater Gauge - Unleashing Astonishing Transformation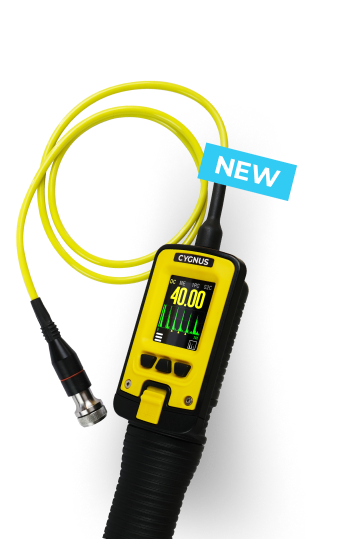 Last month at Seawork and IMX exhibitions, Cygnus offered an exclusive introduction to their superb new Underwater ultrasonic thickness gauge. And it's now available to pre-order!
This clever new tool is designed specifically for professional divers, and as we've come to expect with Cygnus UT gauges, it has been built for the best durability, accuracy, and usability. It can withstand harsh subsea environments, provide ultrasonic metal thickness measurements quickly and accurately, and display instant results on a smart new, large color LCD screen - highly visible, even in low-visibility waters. 3 quick function keys and an intuitive menu mean this diver-held gauge gives a simple and fast operation necessary for;
- UWILD or IWS Class Surveys for ships
- Marine Structures including piers, jetties, canal locks, subsea pipelines, and equipment
- Offshore Platforms and Mobile Offshore Units (MOUs)
- Civil Engineering such as bridges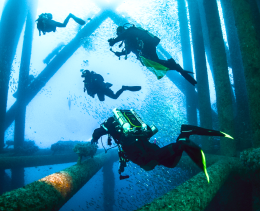 What's new?
The original diver-held Cygnus Underwater, despite its age, impressively remains in the industry today. However, with the ever-growing popularity of Cygnus Dive and the extra features it has to offer, we thought it was time to bring this torch-style gauge, preferred by some, up to date - combining the best of both gauges with some fantastic new features!
Beyond an exceptional new look and ergonomic design, the most obvious advancement for the new Underwater is the jump to a multi-mode gauge. The original Multiple-Echo mode is still the best method for verifying accurate through-coat measurements as specified by Class Societies. The Echo-Echo mode is ideal for measuring heavily corroded metals through thin coatings (i.e., coated metals with heavy back-wall corrosion) while the Single-Echo mode is perfect for measuring uncoated metals with heavy front and/or back-wall corrosion. The new Cygnus Underwater now offers a versatile solution for varying levels of corrosion and various materials, as well as through-coat measurements.
The gauge has also gained a Depth Sensor - a brand new feature to Cygnus' subsea range. This is a live, accurate depth indicator for the diver, displayed as one of 4 dynamic screen views on the gauge's front display, along with basic (measurement readings), live A-Scan, and data logging views.
Another new feature to Cygnus' subsea range, is the Underwater's Real Time Clock, enabling the date and time to be tagged to measurement points. And finally, the Underwater gauge now benefits from Auto-set Gain which optimizes the probe's gain settings to ensure continuous good probe performance.
The Underwater Variants
The STD standard variant offers the reliable Multiple-Echo measuring mode with Deep Coat function, whilst the PLUS variant offers the benefits of 3 versatile measuring modes with A-Scan. For those who opt for the PRO variant, you'll have access to all advanced features and comprehensive data logging. All variants come with a depth sensor and have upgradeable options such as Data Logging and Topside Repeating kits.
The new Cygnus Underwater is available to PRE-ORDER NOW. Look out for more updates on our social media and website for the official release date! To learn more, visit the Cygnus Underwater page https://cygnus.tiny.us/New-Underwater-Gauge. Alternatively, scan the QR code to get a quote. Get £200 off using code OSNDT23.