In an interview by Oil & Gas Innovation, Lucinda Crosthwaite-Eyre, Cygnus' Managing Director, speaks about our leading market position in fields such as Ultrasonic Thickness Gauging, Leak Detection and Flooded Member Detection. Best known in the oil and gas sector for Cygnus ultrasonic thickness gauges, Lucinda explains how we employ these technologies in particularly hard to reach places subsea, for example. In addition, Cygnus is paving the way for the industry with its another interesting solution, Flooded Member Detection (FMD Testing).
1. Could you start by telling our readers the breadth of Cygnus Instruments' experience, how long the company has been active, and its reach?
Cygnus Instruments was formed in the early 1980s in the South West of the UK. We are a small, dedicated team that designs and manufactures all of our own products here in the UK.
We sell directly to customers here in the UK, but we rely heavily on our very special relationships with nearly 50 distributors around the globe. We expend a lot of time and energy travelling, training and supporting our partners – to ensure that Cygnus customers get superlative service – wherever they are in the world.
2. Please tell us about Cygnus' credentials and experience – in terms of your products and services for the oil and gas sector?
We have always been 100% focussed on ultrasonic NDT (Non Destructive Testing) and thus we consider ourselves the leading specialist in ultrasonic thickness gauging , leak detection and Flooded Member Detection.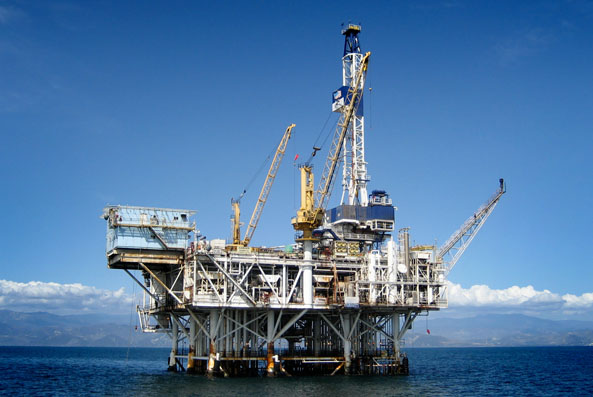 Cygnus is perhaps best known in the oil and gas sector for our ultrasonic thickness gauges. In particular, our ATEX Intrinsically Safe thickness gauge – which is the only one of its kind in the world that is certified to Class 1, Div 1 (or "Zone 0").
And in the subsea segment of the sector, we are very well known for our range of underwater thickness gauges. We make a range of units that can be diver-held or mounted on ROVs (Remotely Operated Vehicles). Our company also makes a subsea thickness gauge that can be mounted on a diver's wrist and which displays large, clear AScans and accepts twin crystal probes (particualry useful for measuring extremely heavy corrosion subsea).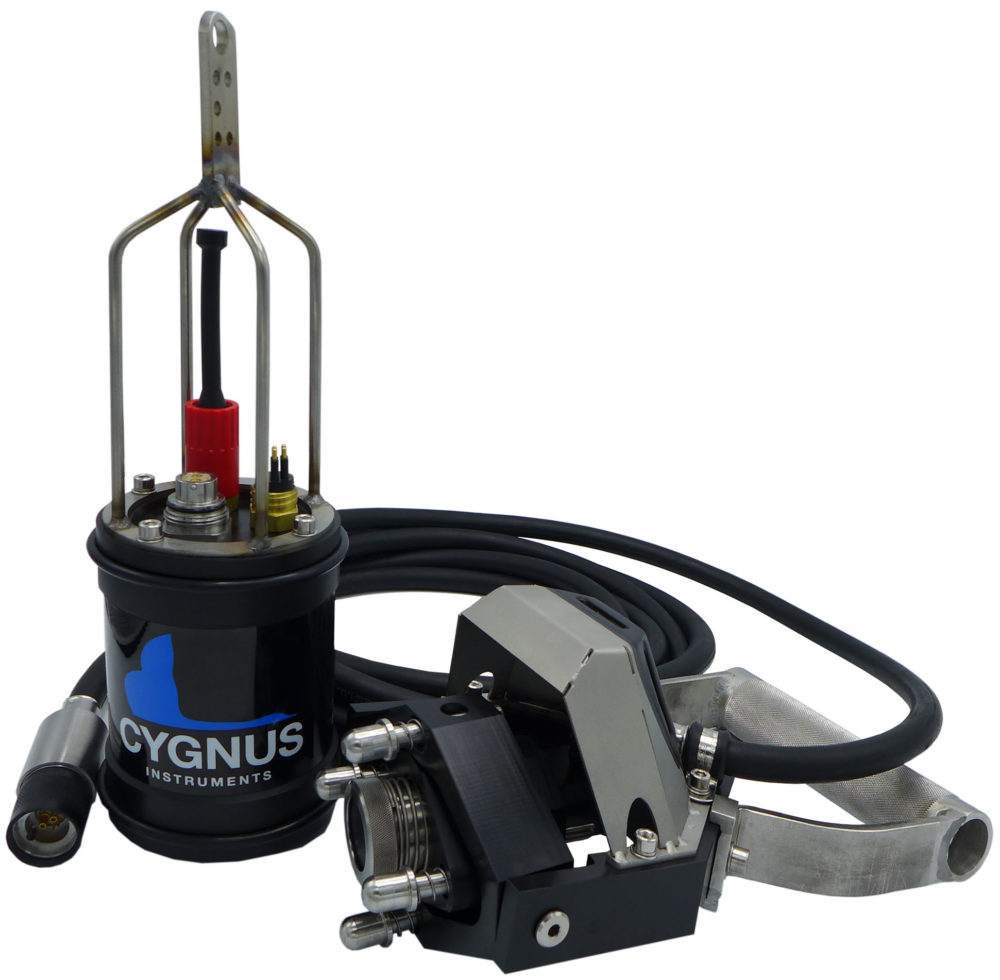 3. What is FMD testing?
Flooded Member Detection is an inspection regime designed to screen subsea platform structural members for defects. A cracked weld, for example, can allow the ingress of sea water into the member which may go on to create a point of failure for the structure.
Operators therefore inspect these members on a regular basis to gain confidence that there has been no sea water ingress.
There are 2 recognised methods by which subsea members can be inspected: via UT (Ultrasonic Testing) or via radiation (often referred to as "Gamma").
4. Could you talk a bit about Cygnus FMD?
We observed that in the past, FMD with UT had not gained as much respect from the offshore inspection industry as it should have done. We felt that this was because previous generations of UT FMD equipment had not been produced by a specialist design house with the right in house knowledge of experience. They might do the job in a test tank, but could be tripped up by thick walled members or by heavy corrosion when subsea.
So we committed to the project and then embarked on a full engineering development and trials cycle – because we knew that, done properly, a fully developed, professional UT system should and would play a much greater role in FMD in the future.
The result is, therefore, that the Cygnus Flooded Member Detection (FMD) system is the only one of its kind that is designed by a dedicated, ultrasonic NDT (Non Destructive Testing) specialist. We aim to attract the end user who is committed to using the best quality equipment possible – the customer wants to eliminate any doubt and provide watertight reports. In other words, who are themselves also leaders and specialists.
When the Cygnus system presents a "Flooded" or "Not Flooded result", that result is backed up with a true, rectified A-Scan. This allows for more interpretation of a result – and allows either the technician on the survey, or an off-site engineer at a later date, to confirm the result is absolutely correct.
Other considerations have also been taken properly in to account; there is a 4-way gimble built around the Cygnus transducer that ensures correct transducer alignment; and the system has a transducer contact sensor – to let the topside technicians know the ROV or diver has made good contact before a test is conducted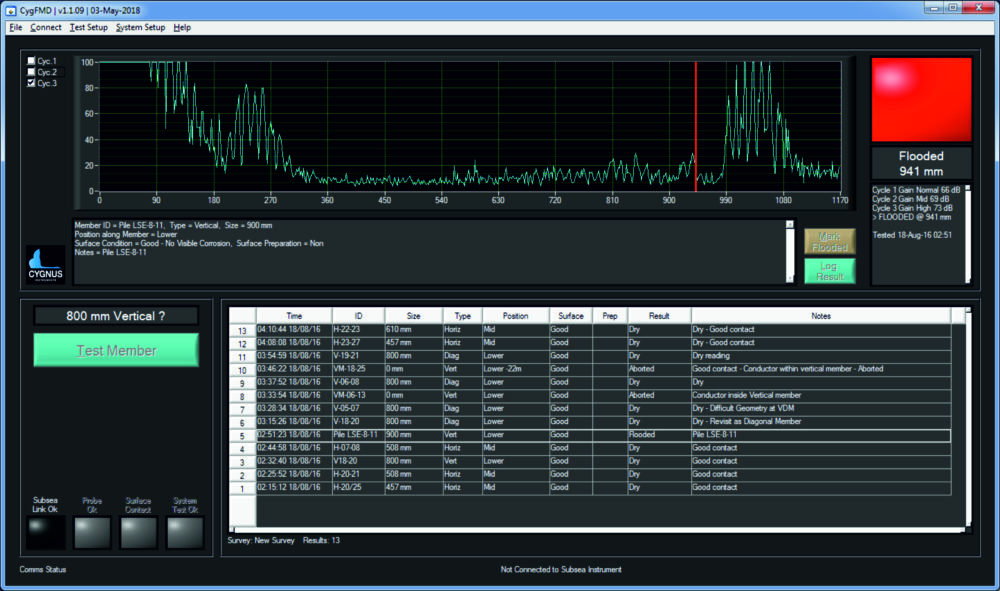 5. So has the offshore industry accepted the new Cygnus System?
Feedback has been unequivocal that the Cygnus FMD system is working very well for the world's biggest contractors. This is because while some degree of 'surface preparation' is often needed for UT FMD on Members, that perceived disadvantage can very often be outweighed by two distinct advantages: operational flexibility and cost savings.
Because the Gamma Technique uses a radioactive source, the equipment is almost always provided as a service by a third-party contractor. To operate the equipment one, or often two, specialist technicians must be deployed with the equipment – and they will then take up precious bed-spaces offshore. The Cygnus UT equipment is extremely easy to understand and simple to operate; therefore, existing personnel from the diving or ROV team will perform the inspection work themselves – creating a potentially very valuable cost saving for the operator.
Nearly two dozen systems have been deployed around the world in the first full year of the product being available -and Cygnus have joined forces with Ashtead Technology to ensure the FMD system is available for rental all round the globe.
Surveys have now been successfully completed by all the major contractors for almost all of the Tier 1 Operators; from Saudi Arabia to the Gulf of Mexico and from Western Australia to the North Sea.
6. Finally, could you enlighten our readers of a case study where you helped a client with your solutions?
Surveys using the Cygnus UT equipment have now been successfully completed by all the major contractors for almost all of the Tier 1 Operators; from Saudi Arabia to the Gulf of Mexico and from Western Australia to the North Sea. Endless members have been inspected and many buoyancy tanks checked. As mentioned above, the fact that we have offered a truly reliable and viable alternative to gamma – and delivered it in a package that is aimed solely and squarely at its end application – has meant that uptake has been extremely good.
After using the Cygnus FMD system Louis Pietranek of Westerton Access commented that "the new Cygnus Ultrasonic FMD System was perfect for our recent application. Our technicians found the software to be very easy to use with features that ensured a quick and reliable result. It's a great addition to the Westerton Access capability, offering FMD inspection from the Falcon ROV".
And that is what Cygnus is all about: we harness four decades of ultrasonic knowledge and sector experience in order to offer a simple, practical solution that enables our end users to get clear, reliable results; and in doing so we aim to offer a real value-add to the industry.