Eddy Current NDT
Accelerating Tubing Inspection Applications with an Advanced Eddyfi Solution
Published on 23rd November 2020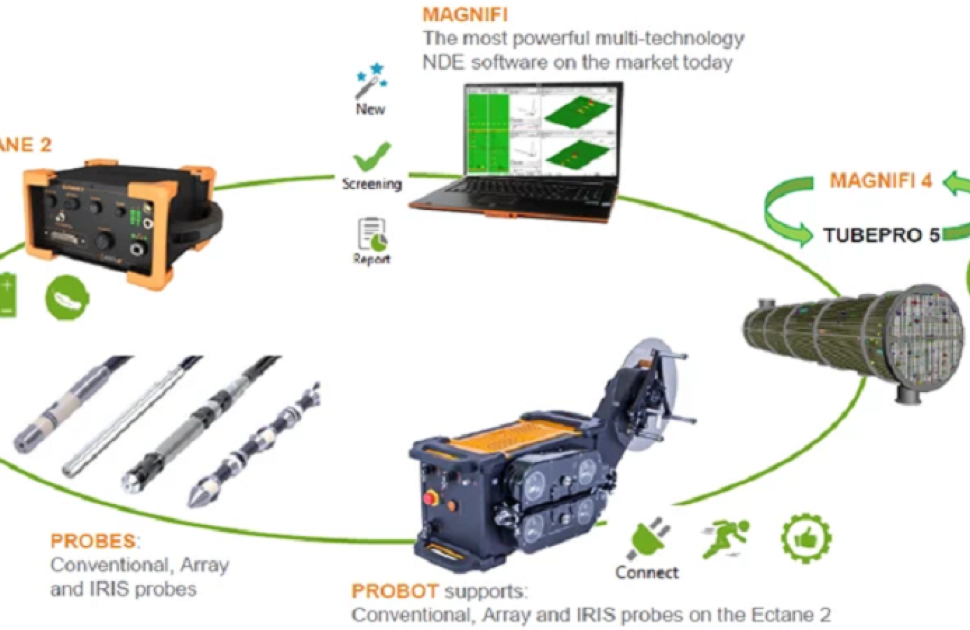 When it comes to tubing inspection applications, industry is faced with several challenges ranging from a lack of qualified personnel to scarce historical data and unpredictable asset life cycle expectancy.
Note By : Olivier Lavoie - Product Manager
Source: Accelerating Tubing Inspection Applications with an Advanced Eddyfi Solution | Eddyfi
When it comes to tubing inspection applications, industry is faced with several challenges ranging from a lack of qualified personnel to scarce historical data and unpredictable asset life cycle expectancy. With a mandate to push the limits of non-destructive testing technology forward by constantly innovating, we offer an advanced multi-technology solution for the most productive and efficient assessment of tubing found across a range of oil & gas, petrochemical, power generation, manufacturing and related industries.
Our solution focuses on three core values:

Higher data quality including defect positioning through high resolution array probes and IRIS combined with encoded data;

Shorter inspection times with automated acquisition and analysis data screening, in addition to live interaction with reporting software;
Standardized report templates to support multiple (previous and/or complementary) reports designed to provide accurate fitness-for-service assessments.
The combination of complementary Eddyfi solutions delivers on these values.
Over the last decade, the Eddyfi Ectane® has become the undisputed global reference for heat exchanger tubing inspection. With a compact form-factor and unmatched robustness, the multi-technology instrument has earned a reputation for being best in class. It is three times more compact than other legacy test instruments, offering portability and autonomy for more efficient inspections using conventional, array and IRIS probes – directly applicable to the non-destructive testing (NDT) of tubing which typically relies on multiple techniques. A powerful CPU board enables real-time data processing while improved maximum frequency offers more flexibility and superior performance during tubing assessments.
Using Ectane 2 with Magnifi® and TubePro™ makes tubing data acquisition, analysis, and reporting easy. A setup and tube list wizard empower you to instantly build and acquire your tube bundle. Run the assisted data analysis feature to deliver high quality reports including all 2D and 3D tube mapping with all necessary parameters.

The most advanced data acquisition and analysis software, Magnifi supports most inspection technologies for tubing inspections with single-element and array probes. With its powerful GUI and impressive features, there's no need to switch back and forth between several software platforms. It offers exceptional data management, better productivity, customization options, flexible signal processing and data analysis, and powerful reporting – everything you need for detailed tubing examinations.
Designed specifically for tubing inspection reporting, TubePro provides 2D/3D tube mapping, data management and reporting. Take your report up a level with 3D models available in PDF inspection reports to provide your client a clear assessment of equipment integrity. Users can quickly create a tube sheet for inspection and send it directly to Magnifi to perform the inspection. This link not only simplifies the 2D tube sheet creation, but also offers real-time report synchronization. TubePro offers visual diagrams for quick assessments through a plugged tube ratio diagram, supports multiple data sets and reports, and provides an assisted photo detection tool to help inspection companies be as effective as possible.
Making one-person inspection a reality, the Eddyfi Probot offers operators a competitive edge with this production-oriented probe pusher system. It is designed to enhance the operation of our most innovative tubing probes by providing indication locations, thanks to its integrated encoder. Configure and control the Probot with Magnifi for tube inspections, use it with TubePro for better results (drastic time savings) and reports (indication correlation required to establish the bundle life cycle expectancy), and exploit the Ectane 2 for the most powerful heat exchanger inspection system commercially available.
As the world leader in tubing probes , we're proud to offer a versatile probe catalog with over 6,000 standard probes, an unmatched IRIS solution and custom probe options. To ensure high quality results that meet your inspection requirements, we offer the following tubing probe technologies:
ECT
RFT
NFT
MFL
IRIS
Array (DefHi, NFA)
Our proposed multi-technology approach for tubing inspection applications offers significant time savings, exceptional data quality and defect positioning, and report delivery that exceeds expectations.
Eddyfi Technologies' advanced NDT solutions support asset owners for better cost control, better asset integrity and better comparison of data through uniform data. Be better and stay Beyond Current with our advanced solution for tubing applications.
Thanks to all our customers for your constant comments and feedback on our tubing solutions as it feeds our product evolution.

Subscribe to our Blog to learn more about our tubing and other NDT solutions, and contact us to discuss your specific tubing inspection requirements.