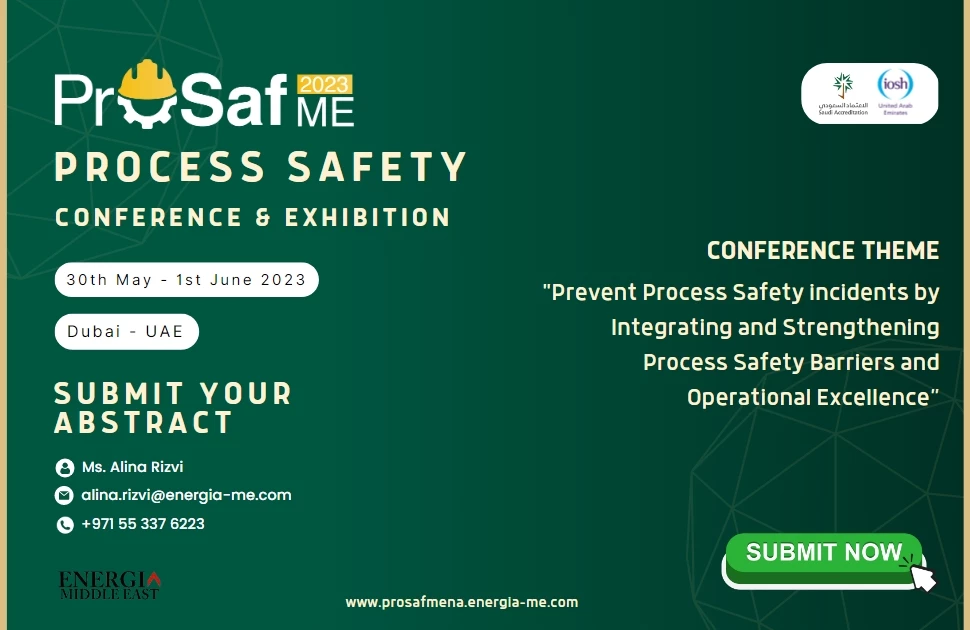 MENA Process Safety Conference & Exhibition-Prosaf Mena 2023
It gives me great pleasure and feel honoured to invite you all on behalf of Executive and Technical committee; to join
and actively support us at MENA Process Safety Conference & Exhibition-Prosaf Mena 2023. A conference which will be held on 30th May till 1st June 2023 at The Address Hotel, Dubai.
The Conference Theme for this year 2023 is to "Prevent Process Safety incidents by Integrating and Strengthening Process Safety Barriers and Operational Excellence".
We welcome this initiative of highlighting this significant topic that needs to be addressed. It can only be avoided if we produce a planned way to prevent, control or mitigate undesired events or accidents. MENA Oil and gas industries contributes a large production of Oil and gas reserves worldwide.
In this stance, there are substantial number of hazardous chemicals on drillings, production sites and several other processes that can lead to an uncontrolled or unplanned release of toxic chemicals and associated fire. GCC Oil and gas Industries, dealing with hazardous chemicals are required to develop an effective process safety management programme. It is a comprehensive program that protects employees, contractors and visitors of the facility.
At MENA Process Safety Conference & Exhibition-Prosaf Mena 2023 we aimed to identify the underline root causes of such events. Thus, while recommending corrective measures to prevent recurrence of such incidents in future.
This year the conference will include topics such as:
Process Safety incident investigation
Proactive Process Safety and Prevention of Catastrophic Incidents
Fostering Process Safety Culture and Compliance with standards
Asset integrity and Process safety Management
Identifying and Managing Risk of Aging Facilities
Effective Process Safety Program
Parameters for evaluating ESG performance.
Involving Human Factors in process safety
Process Safety and pillars to assess the strength of process safety barriers.
Empowering safety managers and workers through Artificial intelligence (AI) enabled EHS solutions.
I look forward to see you in the capacity to support the initiative as different stakeholders participating in the conference. These includes speakers, sponsors, exhibitors & the contributing delegates for the sake of making this event a successful one in all measures.
Awaiting anxiously to welcoming you to the ProSaf MENA 2023 in Dubai.