One of the first products that Cygnus brought to market in the 1980s was a handheld subsea ultrasonic thickness gauge (UTG). And it is testament to the outstanding original design that little changed in its fundamental form over more than three decades. Indeed, for many the name "Cygnus" became synonymous with a subsea inspection.
But as technology, working practises and training have all advanced, Cygnus has introduced new products to cope not only with the changing inspection landscape – but also with the varying conditions of the subsea environment itself.
CYGNUS DIVE
While the original Cygnus Underwater unit has many features that have endeared it to the commercial diving community, it remains a unit that must be held in the hand. This means that in strong currents – or where two hands are needed for any other reason – a "hands-free" subsea solution is extremely desirable.
The commercial diver can now switch to using a Cygnus DIVE – the only thickness gauge in the world that is worn on the wrist.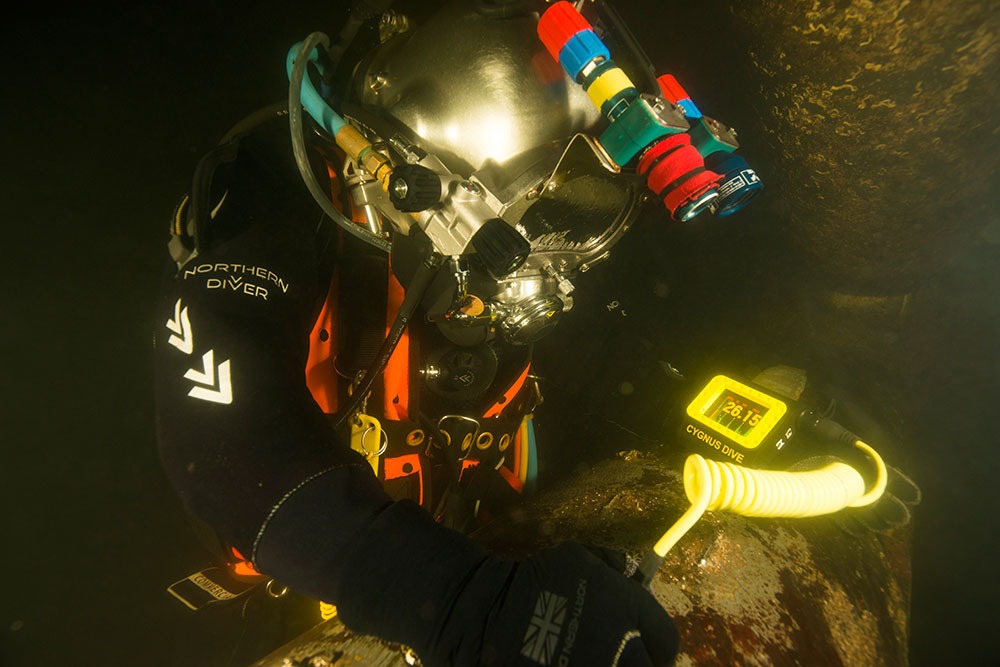 Cygnus DIVE being worn on wrist
On top of this ergonomic advantage, the DIVE has several more features that are useful to the commercial diver in 2020. First and foremost is the availability of "Single-Echo" (SE) and "Echo-Echo" (EE) measuring modes which are extremely useful on heavy corrosion. Even the most corroded piling measurements are now obtainable using SE mode.
An A-scan is now standard on all DIVE models too; a live A-scan display can be particularly useful when taking measurements in SE or EE modes on heavy corrosion – as it will enable the user to verify those measurements.
Data-logging of up to 5,000 readings – accompanied by their A-scan – is also available; measurements can be saved and referred back to at a later stage – and that information can then be quickly and easily dropped in to a pdf to form a client report.
HelmetView® – a clever remote display that sits flush on the outside of the diver's helmet and allows the diver to see the measurement being taken without needing to look down. This option is also especially useful in ultra-low visibility or "blackwater".
The DIVE unit continues to have "Multiple-Echo" (ME) technique too. This Cygnus-pioneered ultrasonic technique negates the need for coatings to be removed. ME mode will "read-through" coatings up to 20mm thick; this can save both time and of course money – as there is no need to damage and then replace expensive subsea protective coatings.
One further option that is available to the diver's support team is hand-held or PC-based "topside" repeating functionality; this allows the team at the surface to both see the measurements being taken in real-time – and to record (log) those readings themselves.
CYGNUS ROV RANGE
As the use of ROVs becomes ever more prevalent in the subsea and offshore inspection sector, Cygnus also offers two ROV-mountable ultrasonic thickness gauges; a Mini-ROV solution (for observation class ROVs) and a 2,000m depth-rated UTG unit, that is designed for medium to work class ROVs.
These two ROV thickness gauging units are extremely durable and simple to use – the latter being of paramount importance when the team is removed from the unit itself during a remote inspection.
Dedicated software displays the date, time and thickness readings on the surface which can be logged and stored for later reference and for inclusion in client reports. And a Topside Repeater (TSR) provides the ability to present the thickness measurements remotely and overlay them on to a video signal. This also permits the UTG measurements to be superimposed on the ROV camera's monitor screen.
George Gair, Inspection Manager for Film Ocean (www.film-ocean.com) in Ellen, Scotland had the following to say on the Cygnus ROV range:
"I have used Cygnus UT systems for many years and to me they deliver what's required for quick and reliable results. As we move even more towards ROV based operations, having a cost-effective wall thickness capability is a key component in our service offering- and Cygnus does just that!"