How is Ultrasonic testing used for finding defects? All you need to know about Ultrasonic Testing from AQC- Best Ndt Training Institute and Ultrasonic Testing Service provider in Coimbatore , TamilNadu, India
Ultrasonic Sound is sound propagating in higher frequencies that are not audible to human ear.
Generally sound with frequency (Frequency number of cycles per unit time) more than 20,000 Hertz is known as ultrasonic.
For creation of sound we need to vibrate any matter, therefore in Ultrasonic testing we make a crystal to vibrate in higher frequency (generally 20,00,000 times) to produce Ultrasonic sound waves. These sound waves travels into material , and gets reflected back when it hits any different matter of different elastic property.
For the purpose of creation of sound and receiving of sound we use Piezoelectric Crystal.
What is Piezoelectric Crystal?
The crystal grains which makes mechanical vibrations when electricity is applied and vice versa.
The Crystal creates electric energy when mechanically vibrated.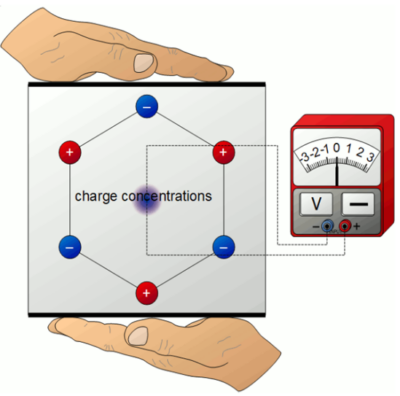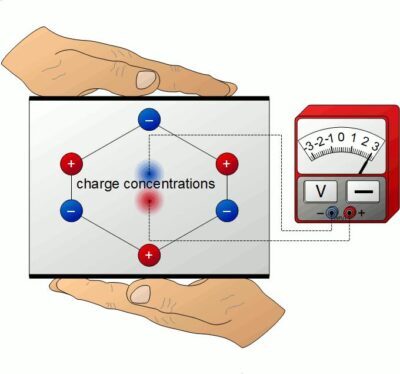 The Piezoelectric crystal is placed inside a scanning unit called " Probe".
The probe is used for scanning over the surfaces of the material. The sound propagates into the material and returns back when it meets the end (Ep). Sound waves returns earlier when it meets a discontinuity (D).
Please note that there will be some loss of sound in the material due to absorption and scattering. This is technically called " Attenuation ".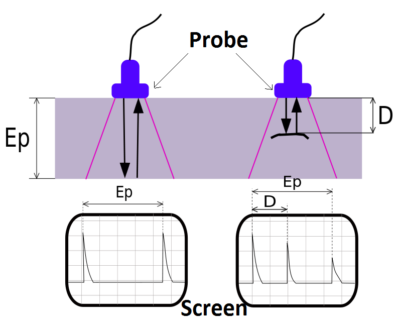 By using the above explained technique it is possible to find any internal defects such as Blow hole, Shrinkage, Inclusions, Cold Shuts, Cracks, Laminations, Lamellar tearing and much more.
But be aware that the defects which are on the surface or very close to the surface are possible not found during conventional Ultrasonic Testing machines. It required advanced machines in the technology.
Material is not restricted to the Ultrasonic Testing Method. It can be done on any material and up to any thickness.The method is a economically cheap testing method.
The method involves operator skills and several techniques such as
Back wall drop method
DGS Distance Gain Size
DAC – Distance Amplitude Curve and more.
To identify the size of defect and interpret for acceptance or rejection.
For more detailed study and upgrade yourself as a expert in the Technology visit us at https://aqcinspection.com/ or call us on 0422-434224 for Industrial Inspection Service. Our blog updates can be found on https://aqcinspection.com/category/blogs/